And here's another entry from the better late than never category.
In the month before Fuego y Agua I wanted to do a tune-up race in the ballpark of 10-15 miles. On January 12 there was a large, well organized 20K (12.4 mile) race in Forest Park on pavement. It was a beautiful sunny 50˚F morning. I chose a different option. At 5pm that night I ran the SHivering Icy Trail Run (let that name sink in a minute), a trail half marathon in the dark in 33˚F rainy weather.
I chose wisely.
This wasn't an actual race, more of a fat-ass event. There was no official entry forms or fees. But a surprisingly large group of 40-ish people showed up in just awful weather for a good time out in the woods. And several people showed up to run hard.
A group of five or six of us went off the front early. Two of us pulled away just before the first section of single track. By the end of the first section I was by myself. Back onto a gravel road a couple miles into the run I had to take off my glasses because they were fogging up. And my vision is the worst in the dark. Then I hit a new section of single track that had been added since the last time I had been to this particular trail last spring. It was very muddy and entirely off camber, so my progress slowed significantly.
Then there was the extra credit. At some point (I had no idea where) along the trail there was a cemetery. We were supposed to find the cemetery and read the name on the largest tombstone there for bonus points or something. I noticed the cemetery and found the tombstone. As I made my way back out to the trail Travis Redden caught up to me and we ran the next several miles of single track together. In all honesty, he was flying and I struggled to keep up on the technical sections in the dark.
Once we made it back out to the gravel road with about three miles to go I dropped the hammer a bit (less because I wanted to win the fat-ass event, but more because I was freezing cold). I finished in 1h43m, a few minutes ahead of Travis. As the first finisher I received a major award.
I was cold and wet while running. The instant I stopped I got really cold… which prompted me to get straight to my car to warm up. So I didn't stick around long. Of course, in my haste I neglected to mention the extra credit (was it Caroline?), so I guess I'll never know what that would have been good for.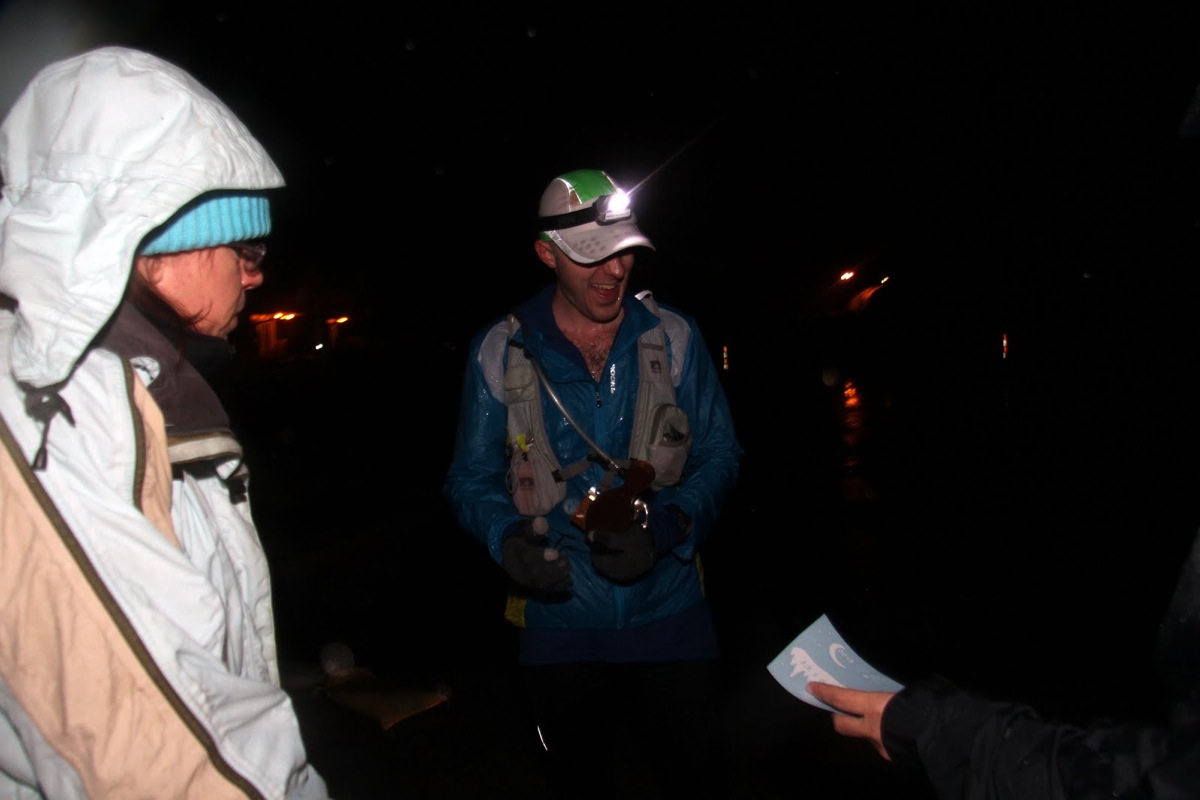 Rob at the finish line (photo from Rock Racing)
The event was super fun. I got the hard run I wanted, along with practice running in the dark, practice running on a fairly unfamiliar trail, and practice running in shitty weather. Mission accomplished.
You can read the event organizer's report here.