After recovering from a long hard effort at Howl at the Moon I put in a very solid month of training in September to prepare for another long race this fall in the cooler weather. I eventually decided on the Farmdale Trail Run 50 miler last weekend.
There was a last minute venue change on account of the government shutdown (Farmdale Reservoir is managed by the U.S. Army Corps of Engineers). The race would be held on a 7.5 mile loop at Jubilee College State Park on the other side of Peoria. The terrain was supposedly similar so this didn't really change much, but the new course was unfamiliar to me and the first two laps would be in the dark.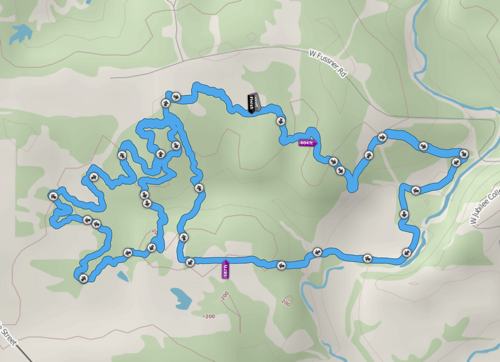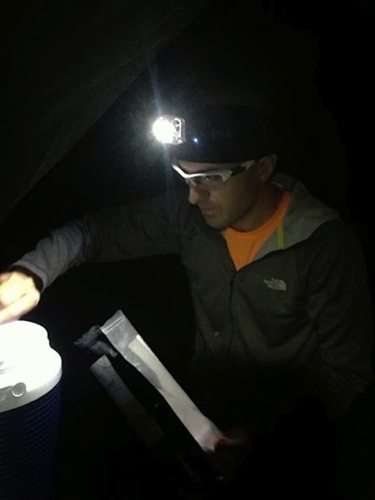 Photo by Melissa
I started out conservatively, choosing not to go up the trail with three guys who took off, instead staying in 5th just behind another runner going about 9:00/mile pace. I lost my partner at the 3 mile aid station after he stopped and I didn't. The trail had been fairly straightforward up until that point, but after the aid station came about three miles of typical midwest mountain bike trails, with lots of sharp turns and lots of short steep hills. I picked up the intensity just a little bit and still had trouble running that section at 10:30/mile. This was not a fast course. During this difficult section I caught and passed one of the fast starters. By the end of the first loop I had caught up with the two leaders.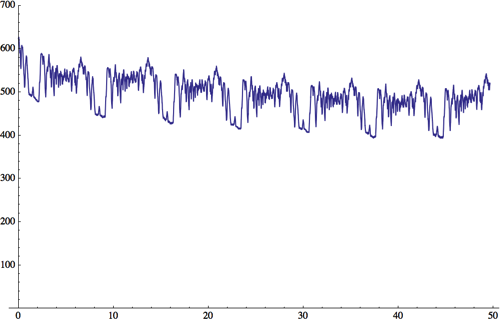 I would describe the course as hilly. The biggest hills were only about 100 feet, but there were a lot of short, steep 20-ish foot hills, particularly concentrated into about 3 miles of the course. Given the 7 laps, this meant 21 total miles of roller coaster ups and downs.
Shortly into the second lap one of the leaders stopped for a natural break and I never saw him again. I stayed with the other guy and passed him right around the aid station. Still dark, about 30 seconds after I passed him I tripped and went down, rolling to lessen the impact, before hopping back up and continuing on down the trail. Let's hope that doesn't happen again. I went slightly faster on the flats and downhills, and he went slightly faster on the uphills, so we stayed together for a few miles before I decided I'd rather run alone and picked up the pace.
At the end of the second loop it was bright enough to see without my headlamp. The 30 mile race, which Melissa was running, had just started 20 minutes prior, so I had a feeling I would start to catch up with the slower 30 milers pretty soon. It took a few miles, but there they were. The last half of the 3rd loop I was steadily passing a stream of runners–more runners than I would see the rest of the day. I kept a count so I could eventually provide that information to Melissa if I ever caught up with her. I did, just as we finished that loop. I had passed 48 runners in the 30 mile race in the span of 4.5 miles. It was congested at times, but no real problems. It became a bit humorous how everyone I passed apparently saw mud on my back and asked me if I had fallen.
I expected to continue to feel good for another couple laps, but just 22 miles in a wave of awful swept over me. I've never had problems before mile 35 in a 50 mile race before, so this caught me off guard. I slowed way down that lap, walking just about every incline I encountered. At this rate I expected to lose the lead at any moment… which added stress… which made me feel even worse.
30 miles in, after that one horrible loop I started to snap out of it and I took stock of the situation. My stomach was fine. My legs were trashed. I could still run the flats and the downhills, just slowly. I was struggling on the uphills, so I continued to walk those. I had no doubt I could grit it out for another 22 miles. But it's going to be slow going. And I'm almost certainly not going to win the race.
The last three laps I kept moving. My legs never felt any better, but they never got any worse either. As I became more and more accustomed to the discomfort I actually began to speed up a little. Mostly I just wanted to stop running as soon as possible. My 6th lap was faster than my 5th, and my 7th was faster than my 6th.
With one mile to go, moving faster than I had been moving for several hours, out of nowhere, a runner blew past me. I thought to myself, all of the fast 30 milers are already finished. Could this guy possibly be in the 50 mile race moving that fast? On a switchback I caught a glimpse of his race number and noticed he was indeed in the 50 mile race.
Fuck.
I ran the last mile as hard as I could, which at that point translated to around 8:00 (my second fastest mile of the race). I ran hard up hills I had walked the previous three laps. I weaved in and out of the slower runners on the course. Just before the final hill I could hear the crowd cheering as the leader crossed the finish line and I knew it would be over soon. I was incredibly glad to be done, but the way it ended was brutally bittersweet. I wasn't surprised that I lost the race (I had been expecting to lose since about mile 25), but I was totally caught off guard by how I lost.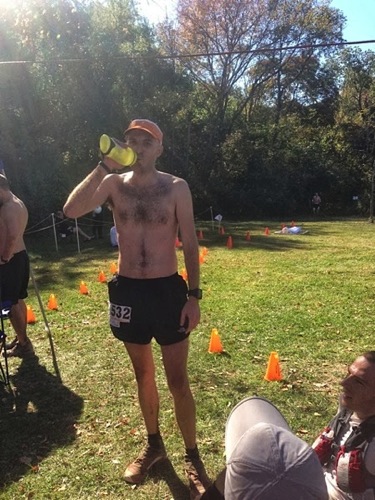 At the finish line. Photo by Melissa.
After leading the race for about 40 miles I finished 2nd place in 9:20, by far the slowest of my four 50 mile races. And I think I was in better shape for it than I was for the others. The course was hard, but I don't think it was harder than Berryman, and the weather was much better for this one. I'm running out of excuses. The truth is I have no explanation for what happened to me from mile 22-30 where I just felt like death. It was a bad day for me.
But I'll live to fight again.