October 27-28, 2018
I already ran two 100 mile races in 2018, but for reasons I don't understand neither of those races was a qualifier for Western States. Six weeks after Mogollon Monster 100 came one of the final Western States qualifying race of the year, Javelina Jundred. I struggled a bit with injury during those six weeks, so I only felt confident enough to register a few days before Javelina.
Normally I look forward to October races for the cool temperatures, but Javelina takes place in the desert just outside Phoenix, and the predicted high was 90˚F. We had already had snow in northern Colorado. I often struggle in hot weather, so that was definitely the big question looming over this event for me, even more so than my injury.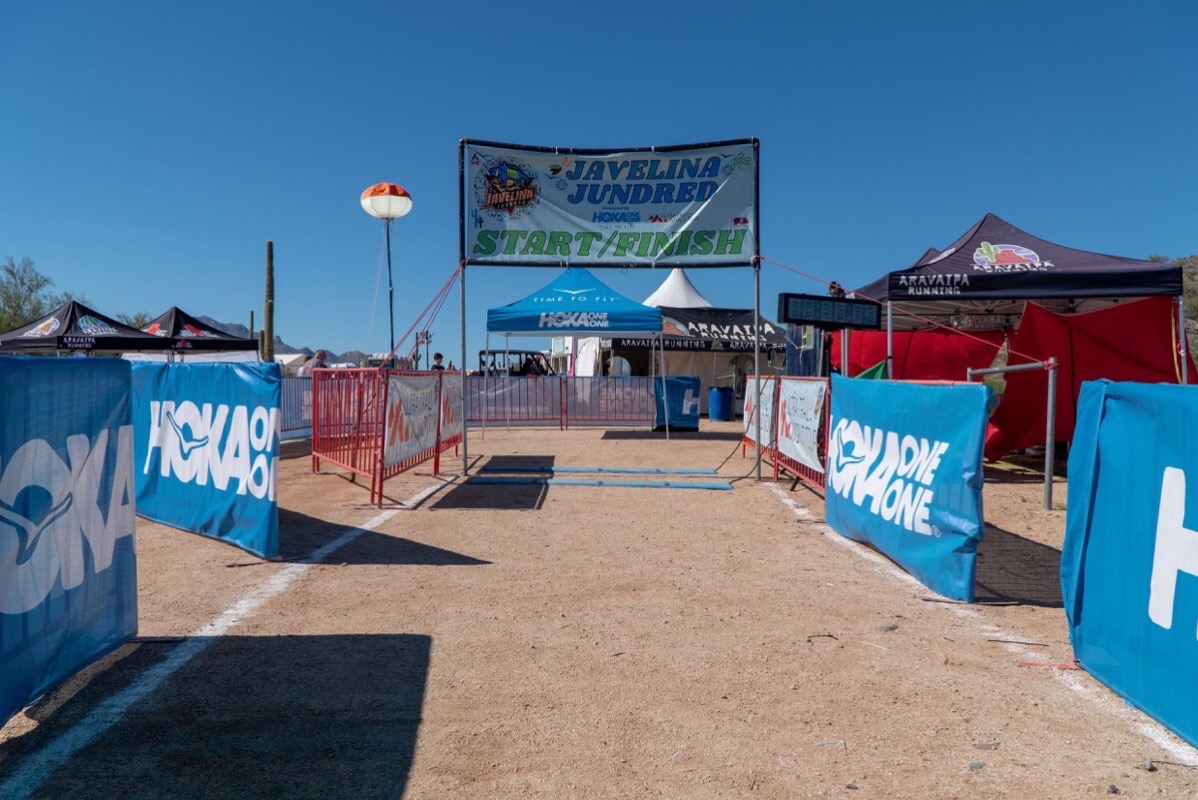 I arrived on my 40th birthday, the day before the race, and did an easy 3 mile run on the course in the middle of the day. This. Isn't. That. Bad. At least, that's what I tried very hard to convince myself. The desert air was so dry I had no sweat on me. I spent most of the afternoon preparing my gear for the race, and hydrating as much as possible. Then I watched part of a movie and went to bed early.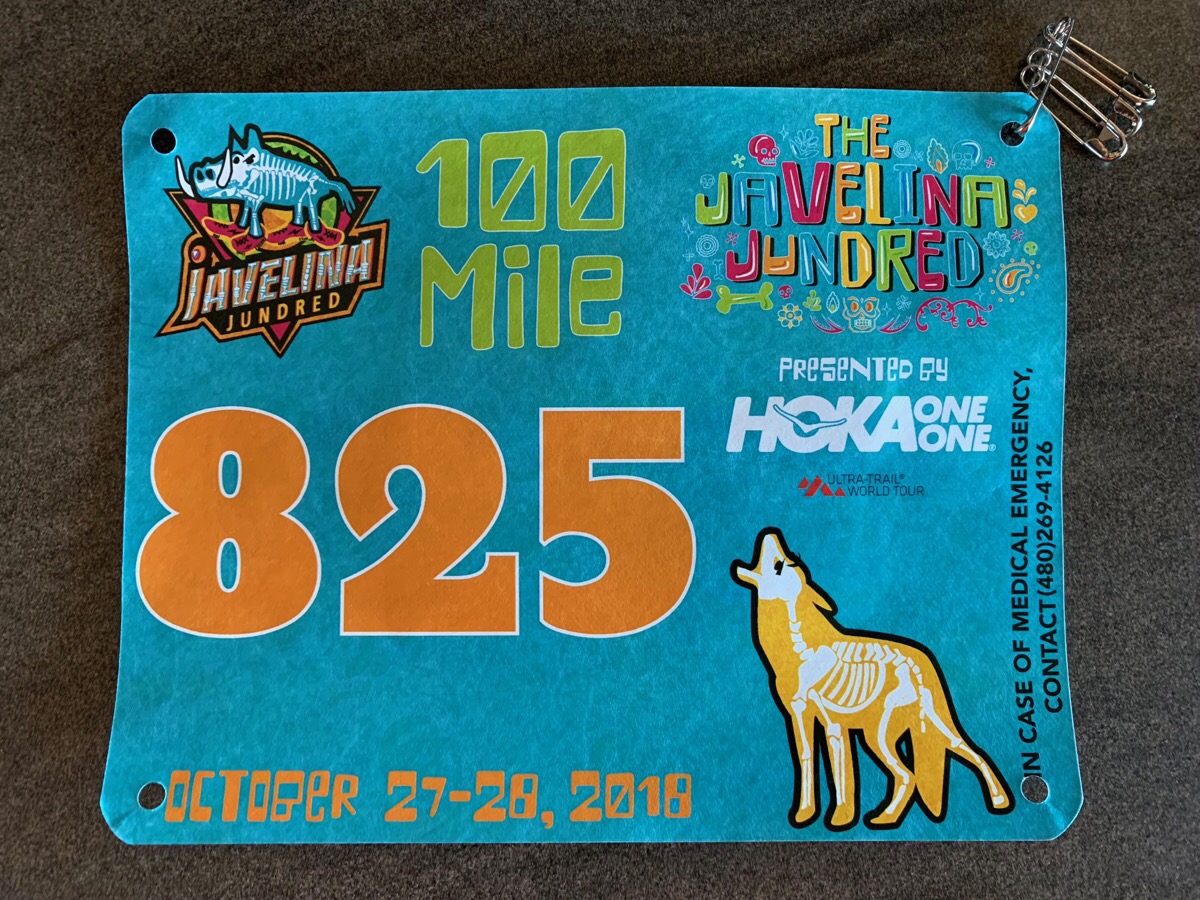 I woke up 2 hours before the 6AM race start to get some breakfast, and since all my stuff was still ready from the night before, I went back to bed for a while. I lined up at the start line in the first wave (for people trying to run under 24 hours) and patiently awaited the race to begin. The course is a roughly 20 mile loop that we cover 5 times, alternating directions each loop.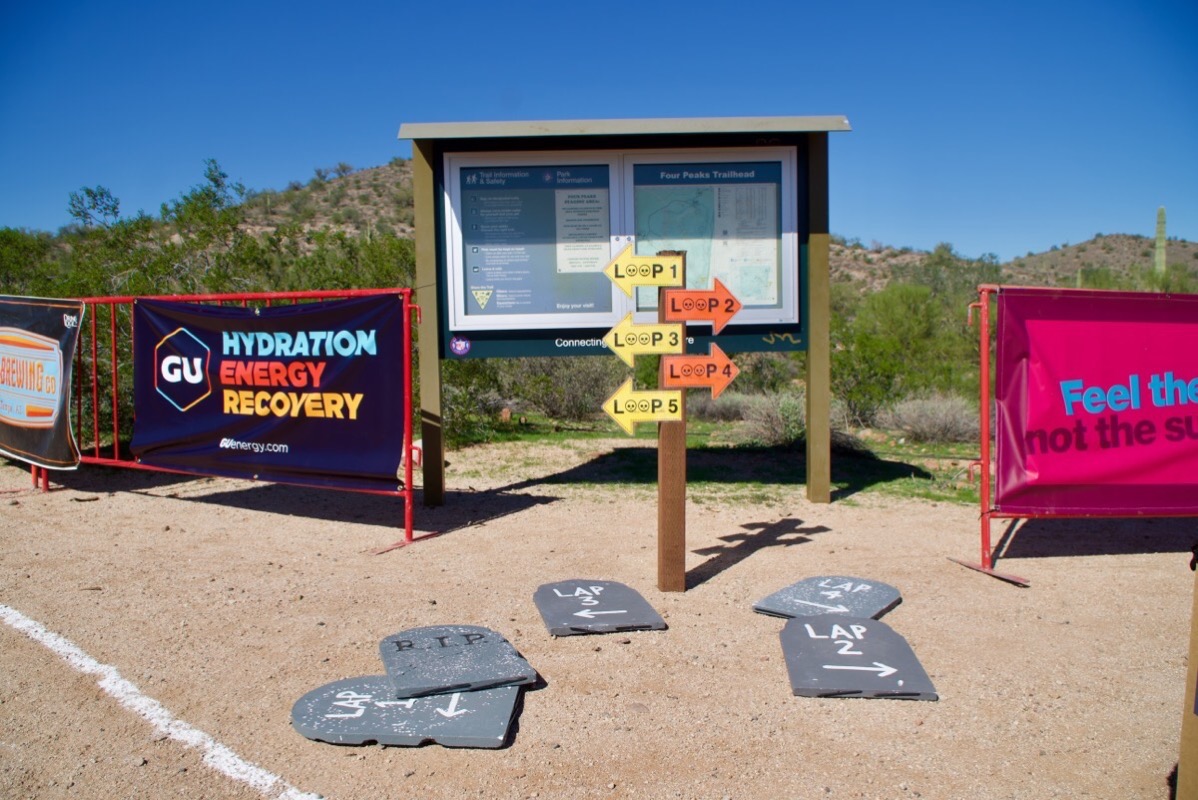 This is a huge race with hundreds of runners, and after about a quarter mile the trail gets narrow. Once we got going I was pleasantly surprised to find myself in exactly the right position. The people in front of me were moving fast enough that I didn't get frustrated. The people behind me weren't too anxious to get past me. We had a nice pleasant run on a dark trail for a couple miles before it started to get light out.
The trail was fairly smooth and relatively flat for the first 4 miles. Then we hit a couple miles of rockier trail, and a gradual uphill that lasted several miles. The rocky trail wasn't that bad, at least not on the first loop. The uphill, while slight, was a little longer than I was expecting. We weren't going up a big mountain, and the climb was so gradual I barely noticed at times. It was easy on the first loop, but I was already beginning to dread the later loops.
As this wasn't a mountain we never really reached a summit, the terrain just changed from entirely uphill to rolling up and down. At the mile 10 aid station I put ice cubes in a tube sock and tied it around my neck to cool down. It wasn't hot yet, I was just getting a head start. After this aid station came a very long downhill. I had been holding back, but on the downhill I let gravity take over and I opened it up a little, leaving behind most of the people who started near me and passing dozens of people.
By the end of the first loop the temperature was heating up. I picked up a small carton of chocolate soy milk from my drop back and drank it as I walked around to the start/finish line and let it settle a bit while I walked back to my drop bag. I would repeat this process at the end of every loop (except the finish). I loaded up on ice again and headed back out the way I came.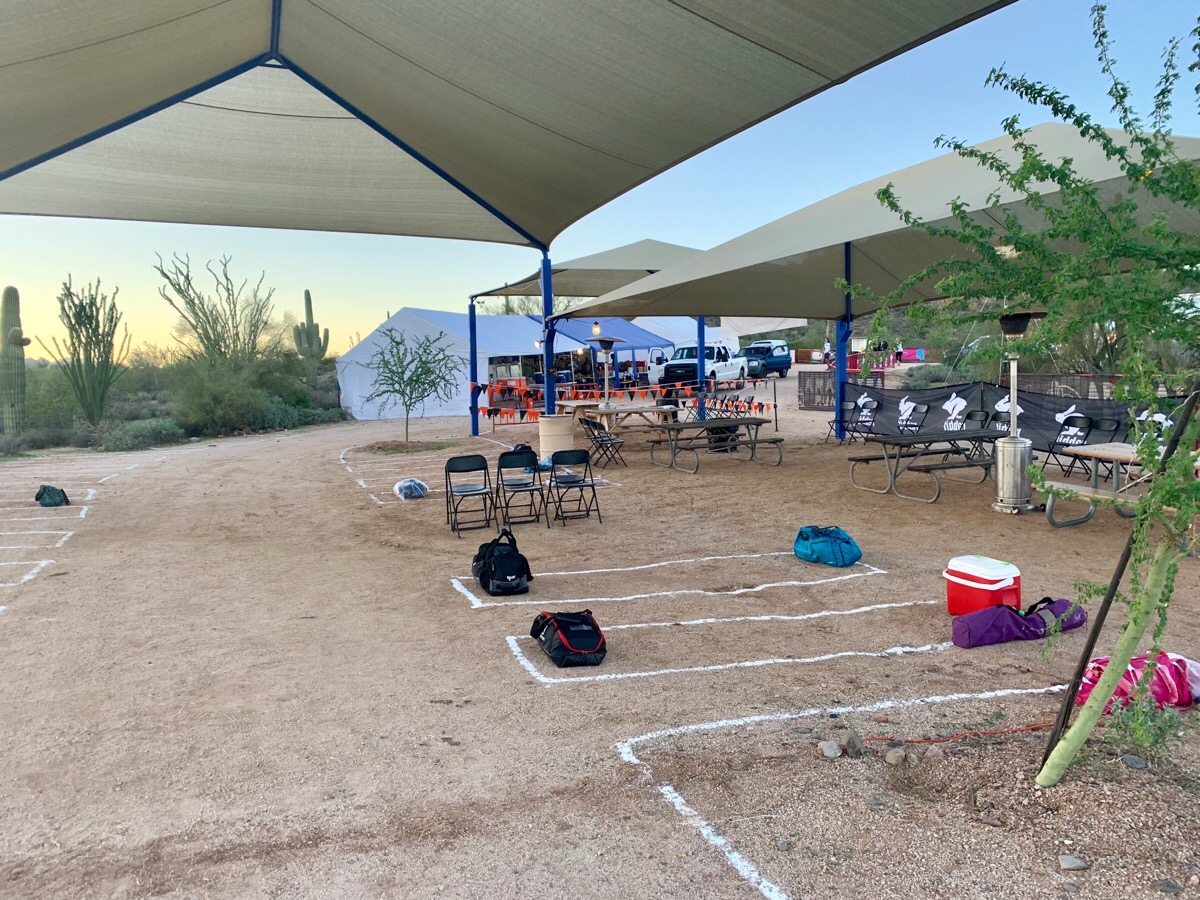 Loop 2 was great. I felt great. I was eating and drinking well. Copious quantities of ice kept me from overheating. I felt good running up the long hill. I saw Melissa's friend Christina for the first time, who was running the 100K race that started an hour after my 100 mile race. I kept thinking, "this is too easy."
My morning wasn't perfect, though. I had considerable soreness in my legs earlier in the race than I was expecting. It was uncomfortable, but there was no need to panic yet. I could keep moving at a good pace for quite a while.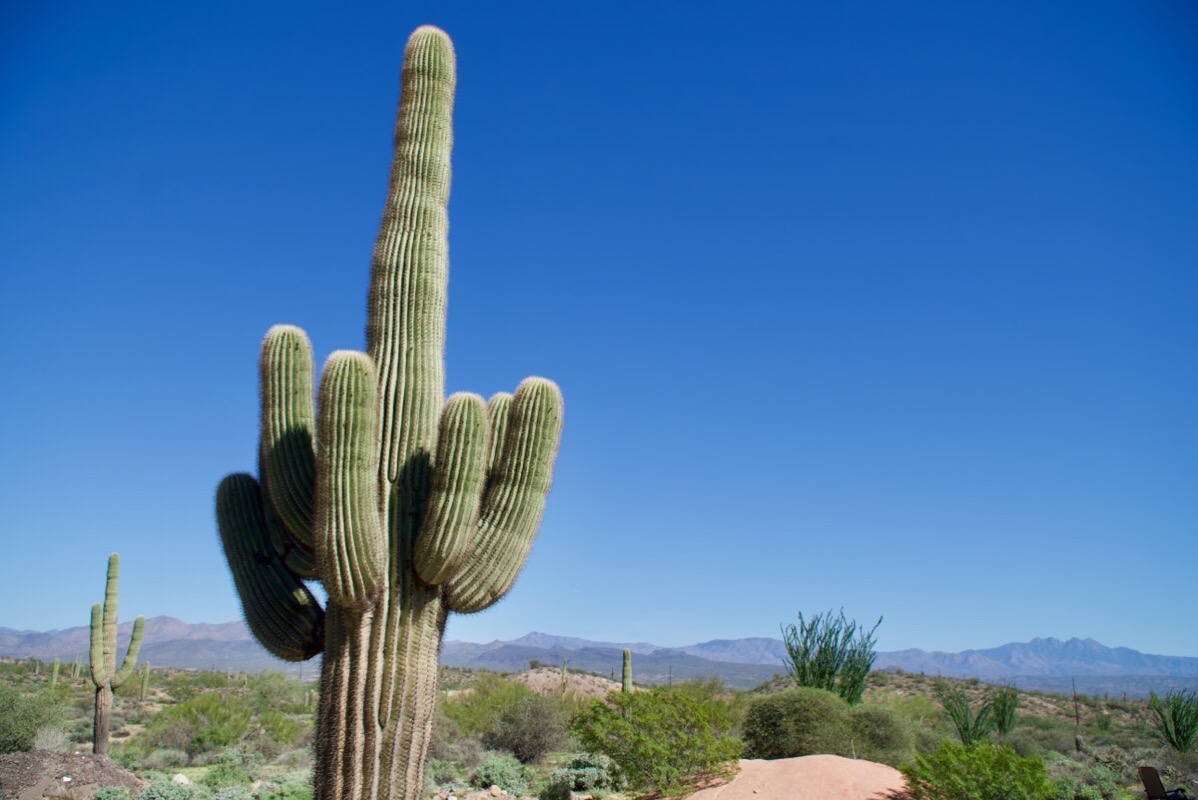 Loop 3 was really, really hot. The ice did it's job. The temperature slowed me down, but it didn't destroy me the way I had feared it might. Need more ice. My legs were sore and it started to slow me down a bit. I had been walking up short, steep inclines, but now I was taking short walk breaks every mile or two with the hope my legs would come back to life.
After loop 3 I picked up my headlamp, ditched my ice sock, and walked for two miles continuously. I could tell by the way I felt after 100K that this wouldn't be my fastest 100 mile run ever. Fortunately, I never expected it to be. I had a short recovery period after my last race, and this weather didn't suit me at all. All I needed to do was finish under 30 hours to qualify for Western States. So that's all I planned to do at that point.
Just finish. Time doesn't matter.
I snapped out of my funk just after dark while running up the long hill. My legs had recovered a bit. Just then I started experiencing a weird pain in my foot. This sort of pain usually doesn't last long, so I trudged onward. Not only did the foot pain persist, it got worse and worse. I finally started walking because it hurt so bad. The problem was, it hurt just as bad when I walked. This made running down the long hill pretty horrible.
By the end of loop 4 I had covered ~15 miles with horrible foot pain and I was facing the prospect of 20 more miles. Walking didn't help. I might as well run to get this over with sooner then. So I mostly ran, with a few walk breaks sprinkled in there. I walked up most of the hill, then ran/walked the rolling parts at the top of the hill.
With 10 miles to go I noticed I had a chance to finish under 21 hours. All I had to do was run 15 minute miles. I ran a 12 minute mile, then a couple 11 minute miles, then some 10 minute miles. I could smell the barn, and I kept speeding up down the hill. I only spent a few seconds at the last aid station. Just 4 flat miles to go. Every step was agony on my foot, but the end was coming so fast.
I crossed the finish line in 20h23m, which was surprisingly my 2nd fastest 100 mile run, even after all the unpleasantness. I immediately caught a chill and hobbled into the medical tent to warm up. My foot hurt too bad to walk over to get my drop bag, so a volunteer was kind enough to get it for me. I changed into dry clothes before making the painful walk back to my van.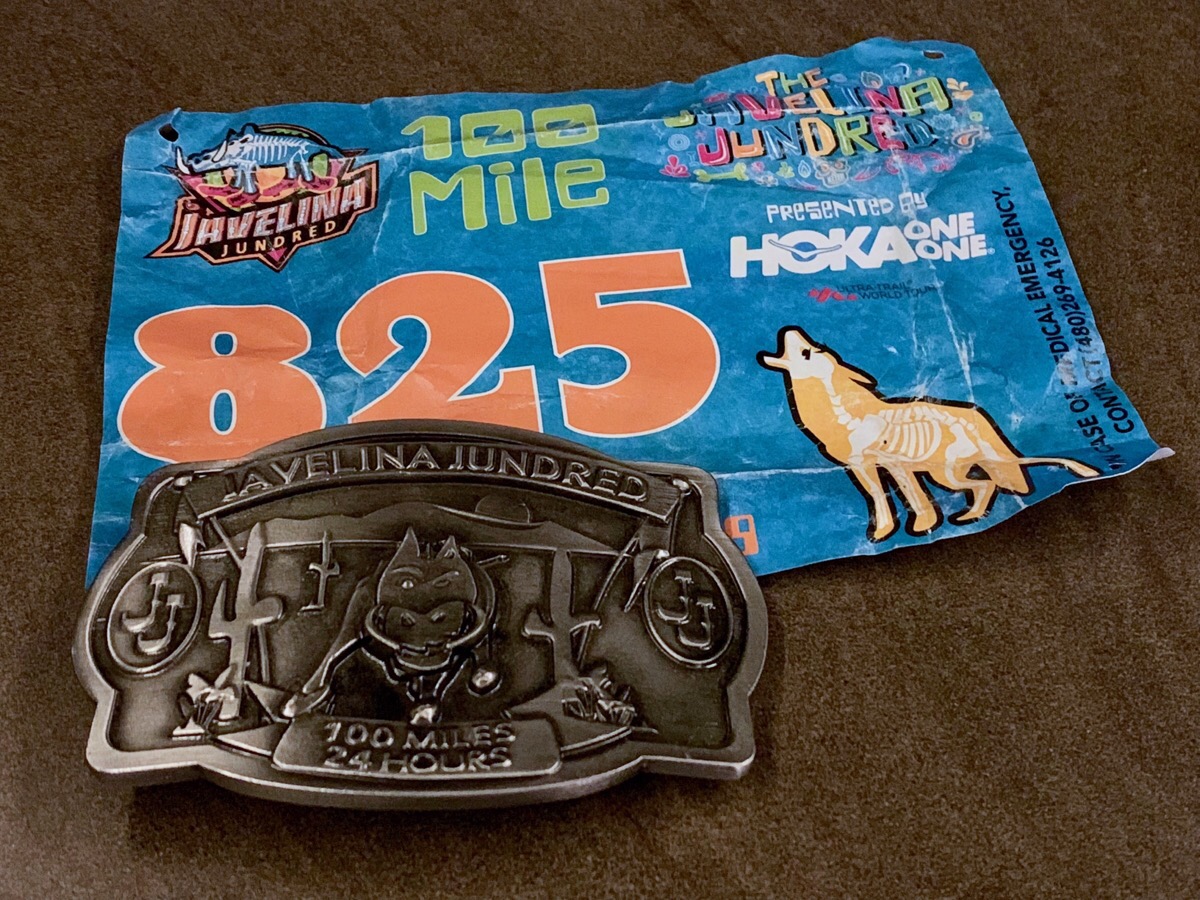 My legs recovered very quickly from this race, perhaps quicker than ever before. However, nearly two weeks later, I'm still having lingering foot pain. The swelling is gone, and I can now walk without a limp, but every step still hurts, at least a little. This is the longest I've gone without running for a long, long time and I feel like I'm getting some well deserved rest. I'll probably see a PT or doctor soon to work out this foot thing.