Why the hell not? I recovered faster from Farmdale than from previous 50 mile races, so on a whim I decided to do something unprecedented for me: run another ultra the very next weekend. I've never run long races less than three weeks apart before, so as much as anything else I just wanted to see if I could do it.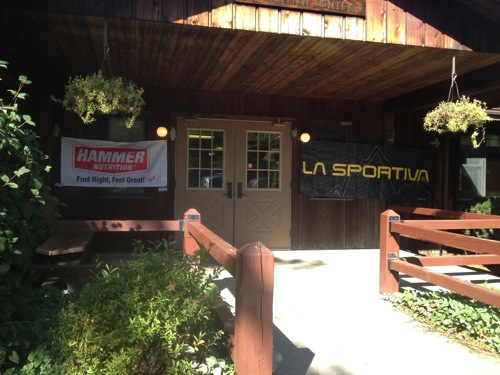 Photo courtesy of Bob O'Brien
I was heading up to central Illinois for a conference at work this week and my trip coincided with the Forest Glen 50K, which is organized by friends of mine from Champaign-Urbana. Forest Glen is one of my very favorite trails to run. Furthermore, this week will be the anniversary of the death of my grandmother, and Forest Glen is one of the places she and my grandfather would take me hiking when I was a little boy. I have many fond memories there.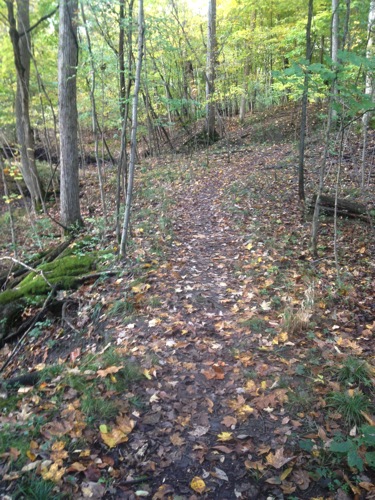 Photo courtesy of Bob O'Brien
Now, Forest Glen is a difficult, hilly trail. There's even a section of three steep 100 foot hills back to back that have been nicknamed The Three Sisters. Given that I'm very bad at running uphill, and I just had a bad race on a hilly course the week before, this could be a recipe for disaster. There are a few notable differences. First, I've run this trail dozens of times, so I know exactly how hard it is, and I can be better prepared mentally. Second, while Forest Glen has more big hills than Jubilee did (which would be slower), it also has more uninterrupted runnable miles (which would be faster).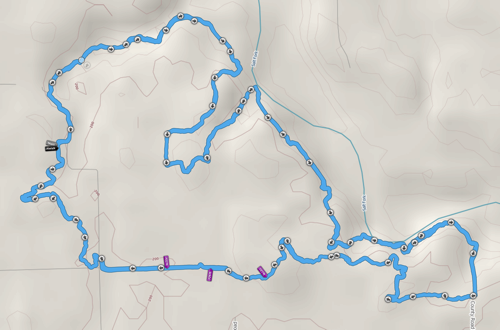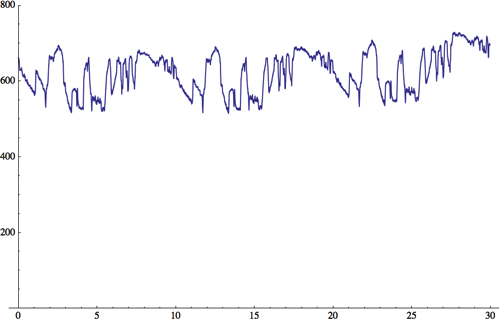 We began the first of three 10.6 miles loops at 8 AM, in cold rainy weather. I joined a pack of two other guys at the front, though I didn't know whether they were in the 50K, the 10-mile, or the 5-mile race. I took it pretty easy on the uphills in the first lap and the other two guys gained some time on me. I came through the start/finish area in 1:33, right at 9:00/mile pace, the fastest loop I've ever run here.
After I replenished my drink and food supplies the race director shouted that the other two guys were three minutes ahead. So now I knew they were both in the 50K, and I had a deficit to make up. We have a race on. I picked up the pace like a man possessed. I wanted to catch the others, but not waste too much energy and do it too soon. I passed one guy about three miles into the loop. The other guy I passed about 6.5 miles into the loop. He stayed within sight of me for a while, but I kept moving fast to try to open the gap. I finished the lap in 1:32, which, for the second time of the day, was the fastest loop I've ever run here.
At the beginning of the third loop I could tell I was slowing down. And that's to be expected. I wasn't super worried about slowing down a little. After all I had run the second loop a minute faster than the first, while the closest competitor had run it 7-9 minutes slower than his first lap. I have a buffer, and even after slowing down I should still be moving faster. The very first hill of the third loop reminded me that this was far from over. My quads were screaming. At the top I worked back up to a jog and staved off the really intense pain until the next uphill. Then the next.
The downhills weren't much prettier either. While I had been running the downhills fast to make up time without using much energy, now my knees were aching with every step down. This was pretty atypical. It wasn't injury pain, just okay we've had enough pain. I don't think this would have been a problem if I had been fresh, but coming off last weekend's 50 mile race the cumulative pounding was taking its toll.
The runnable parts I was going a minute per mile slower than previous laps, and the big hilly sections I was going 2-3 minutes per mile slower. The last time up the Second Sister I actually contemplated stopping to catch my breath about 20 feet from the top.
I got a little sloppy with my nutrition during the hardest section of the last lap and I was completely empty the last few miles. I could just tell from the feeling in my stomach and my muscles that I had no sugar left and was burning nothing but fat. On the bright side, that section was runnable and I was still moving at sub-9:00 pace, so even a bonk couldn't stop me by then.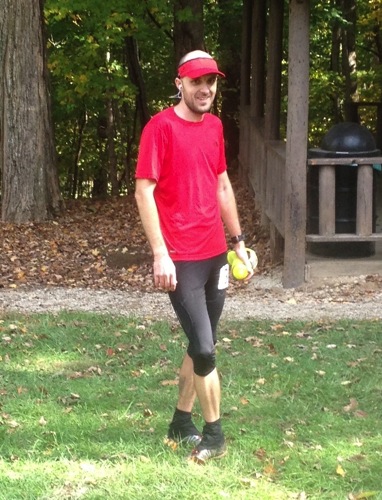 Photo courtesy of Bob O'Brien
After a much slower third lap (1:50!) I crossed the finish line in 4:55, good for first place. I rushed to put on some warm clothes and eat whatever I could, but nothing sounded good. I had to spit out a bite of my Clif Bar. Eventually I found some oranges and that did the trick to warm my stomach up for other food. I spent the next few hours eating, drinking, and chatting with old friends.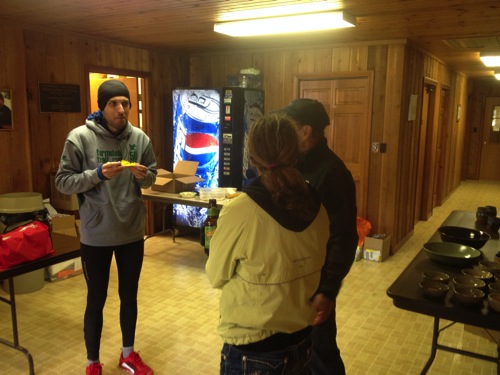 Photo courtesy of Bob O'Brien
I received some wonderful handmade pottery as an award.
I also received something unpleasant, in the form of a horrible blood blister on my big toe (photo if you're interested). That's never happened before.
The race was incredibly well organized. The course markings were superb, and there were even accurate (as in wheeled, not GPSed) permanent mile markers posted along the course (which was incredibly helpful). The course for this year's race changed from doing just the hardest 5 miles of the trail 6 times, to doing the full 10.6 miles just 3 times. I think this was a very wise decision. The new course is just about as hard as anything you'll find in Illinois, but there's still a lot of runnable trail. The old course was just too hilly for most flatlanders (me included!).