Double Chubb 50K
My two most important running objectives for spring 2014 were the Land Between the Lakes 50 mile trail race six weeks ago and the Double Chubb 50K trail race this past weekend. I couldn't identify either as more important than the other. On one hand I felt I was due for a good 50 mile performance, while on the other hand Chubb is the closest trail ultra to my home (on a trail I run frequently) and I've never made it in before (due to the fact that the registration fills up so quickly).
I've been running well this spring. I ran a 50 mile PR at LBL. Two weeks later I ran a 5K PR. Two weeks later I unexpectedly ran a marathon PR. Two weeks later I hoped to hit the quadfecta and run strong at Chubb. If things went well I would likely run a 50K PR and have a shot at a high overall finish. After all, the past two times I've followed a 50 mile race with a 50K a short time later I ended up winning the 50K.
I ran the Chubb Trail several times over the past six months–more than any other local trail. I ran it when it was snowy, icy, and/or muddy. About half the trail is flat, while the other half is either straight uphill or downhill. The most notable feature of the trail is the rocky 400 foot hill on the West Tyson end. It takes strength to run up and agility to run down. I ran every step of it more than a dozen times over the winter and early spring.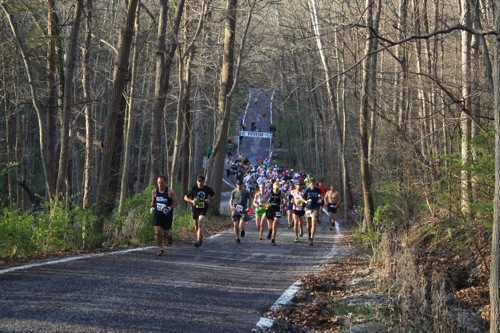 Photo courtesy of Shannon Drohan
The forecast was wet and cool, then wet and warm, then dry and warm. I would have preferred wet and cool. Race day was the warmest day I have run so far this year, which usually doesn't bode well for performance. Everyone seemed a bit shy at the starting line so I had a front row spot. Once the race started I immediately began running uphill watching to see who would take the lead.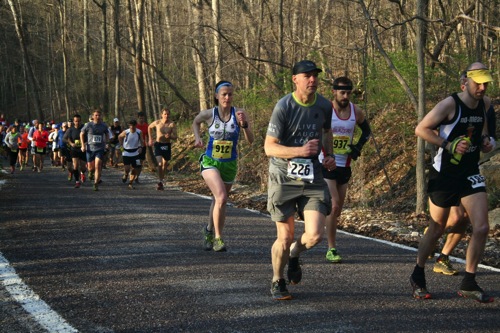 Photo courtesy of Shannon Drohan
There were two guys at the front and I think they were both in the 25K, so I wasn't concerned. Nobody else started very fast so I hit the single track 3rd. I eased into the first few miles, but everyone else eased in more, so I was alone early. #2 on the trail appeared to twist an ankle and was stopped on the side of the trail. Now there was only one guy ahead.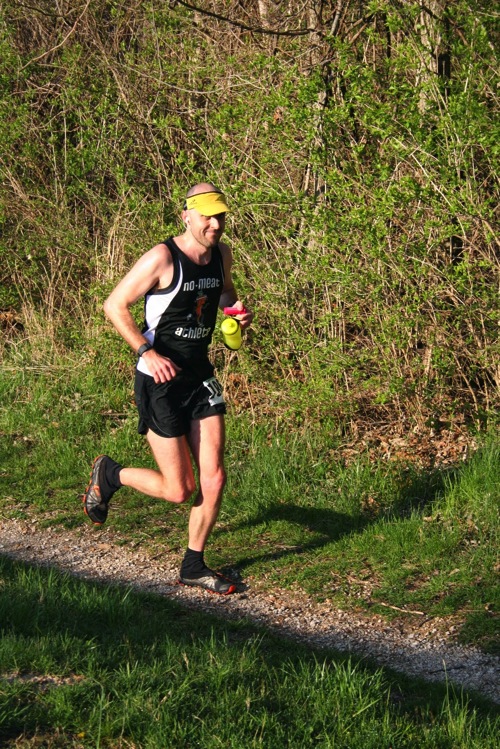 Photo courtesy of Shannon Drohan
I ran up and over the big hill comfortably, but still under 9:00/mile pace on the uphill. I passed up the first aid station as I still had plenty of fluids (Tailwind) and food. On the flat section of the trail down by the river another 25K runner caught up to me and we ran (relatively fast) together for several miles. As we approached the first turnaround of the two out-and-back lap course the leader passed us coming back. It was about a minute before we reached the turnaround. The guy I ran with asked me if the leader was in the 25K or the 50K, which I thought was a silly question at the time. Surely he's in the 25K.
On the second length (of four) back towards the start/finish area I decided I was running too fast and backed off while the 25K runner continued on. I had actually realized much earlier that I was running way too fast, but I guess I was just hoping for the best. The second pass at the big hill (this time from the opposite direction) was a bit harder, but still around 9:00/mile up the hill.
Elevation profile for today's Double Chubb 50K (2x out-and-back). My legs are trashed. pic.twitter.com/aryZsa9Mpf

— Rob Raguet-Schofield (@ragfield) April 20, 2014
As I passed the start/finish area at the halfway point one of the volunteers shouted to me, "he has 4:20 on you." Wait, what? Who? What the… The first runner was in my race after all, and he had a hefty lead.
Every voice in my head shouted yes and no
I slowed down a lot on the third length of the course, partially due to fatigue, partially to being a bit down about the surprise I was so far out of the lead. I alternated between pushing the pace in the hope of eventually catching up, and slowing down as I lost focus. As I came within a mile of the turnaround I started looking out for the leader coming back toward me. Eventually he did, but it was much closer to the turnaround than I expected–2 minutes, so he had a ~4 minute lead. I had slowed significantly, yet I didn't lose any more time (and possibly gained a few seconds). This changes everything.
I was able to refocus on the task at hand. Of course, there was still the small matter of the 8 miles and 2 big hills ahead of me. Also, there were chasers at 8, 10, and 12 minutes behind me, some of whom I was expecting to run a more even pace. My legs felt like bricks. I ticked off the miles, buoyed by each person I passed that was heading toward me. They all made comments like, "He's only 3 minutes ahead," "You're only 2 minutes behind," "I just passed the leader about a minute ago," etc. I wanted so badly to slow down, but I also didn't want to come so close to the win only to give up with a few miles to go.
Then came the big hill. The hill I ran at least a dozen times over the winter. The hill I cruised up earlier in the race. I was reduced to a walk on the steepest sections. About halfway up I passed Cousin Don who gave me the best news I'd heard all day, "He's not very far ahead of you." Then he added, "And he looks pretty beat up." (After the race Don told me I also looked beat up at that point, but thankfully he didn't mention it at the time). I slowly crested the big hill (after nearly 13:00 for the uphill mile), then I picked up speed on the downhill.
This is love, this is war
After a few switchbacks I actually saw the leader from behind for the first time in 28 miles. I sped up more. I closed the gap in a matter of seconds. I made the pass 29 miles into the race, right as he stopped to stretch out his calf. He mentioned he was really suffering badly from muscle cramps. I asked him if he needed any salt (which helps with cramps on hot days like this). "Yeah, if you have any," he responded. I stopped long enough to dump a few S!CAPS out of my waterproof pill holder into his hand. Then I took off down the trail, hoping he wouldn't start chasing (he didn't).
I reached the bottom and began the final trail section, the Chinkapin loop, a trail whose only purpose is to make life hard. It doesn't go anywhere, just straight up a 200 foot hill, then straight back down. It's a final punch in the gut after a long hard day on the hills in the heat. The finish line is at the bottom. I couldn't muster a smile until after I crossed the finish line. 3 minutes later the 2nd finisher crossed the line.
Don't ever give up.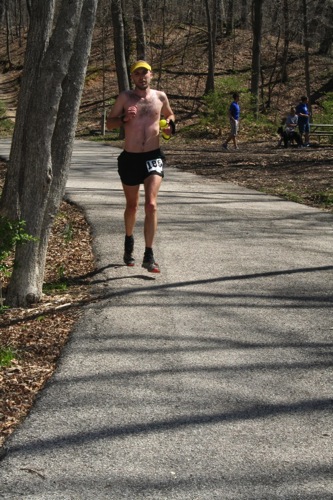 Photo courtesy of Shannon Drohan
I finished in 4:02 (7:48/mile), by far the fastest 50K I've run (on a not-exactly-fast course). I wanted to run under 4 hours, but considering how bad I felt by the end of the race I'm just glad I finished. I made a serious error by starting too fast (surprise!). On top of that I could feel the cumulative fatigue of my previous spring races in my legs, particularly the marathon 2 weeks prior. But now that it's over, I feel pretty good about how things went.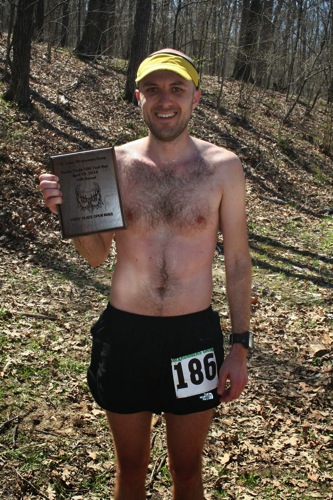 Photo courtesy of Shannon Drohan
Double Chubb Overall winner Rob Raguet-Schofield in a time of 4:02. pic.twitter.com/1qnlw5k5sP

— STL Ultrarunners (@StLUltraRun) April 19, 2014
That's going to be my last foot race for a little while. I think I'm ready for a break. In the span of 43 days I set PRs for 50 miles, 5K, marathon, and 50K. I've never had a streak like that before, and in all likelihood, I never will again. I've tried to enjoy it while it lasted.
These are beautiful times.