September 15, 2018
I first heard about the Mogollon Monster 100 earlier this year from a couple friends who were considering running it. It's a Hardrock 100 qualifier (so it has lots of vert), it's on ridiculously technical trail, and it's in Arizona (so it could be hot Hot HOT). In other words, this is not my kind of race, or at least, not the kind of race where I historically excel. I do well at races in Illinois in October where cool temperatures and smooth, flat terrain make for fast times. Nevertheless, I'm always up for a good challenge, and I'd really like to run Hardrock someday, so I should get my name into the lottery as soon as possible. And since I typically wait until the last minute to sign up for races, Mogollon was one of few options I had for this fall.
The course travels from the bottom to the top of the Mogollon Rim (and back down) four times. The bottom of the rim is just above 5,000 ft, while the top is just under 8,000 ft. As if four big climbs weren't enough of a challenge, the rest of the course is rolling. There's really no flat part on the course, it's always going up or down. Oh, and it's very, very rocky. Oh, and large swaths of the course are overgrown and difficult to navigate.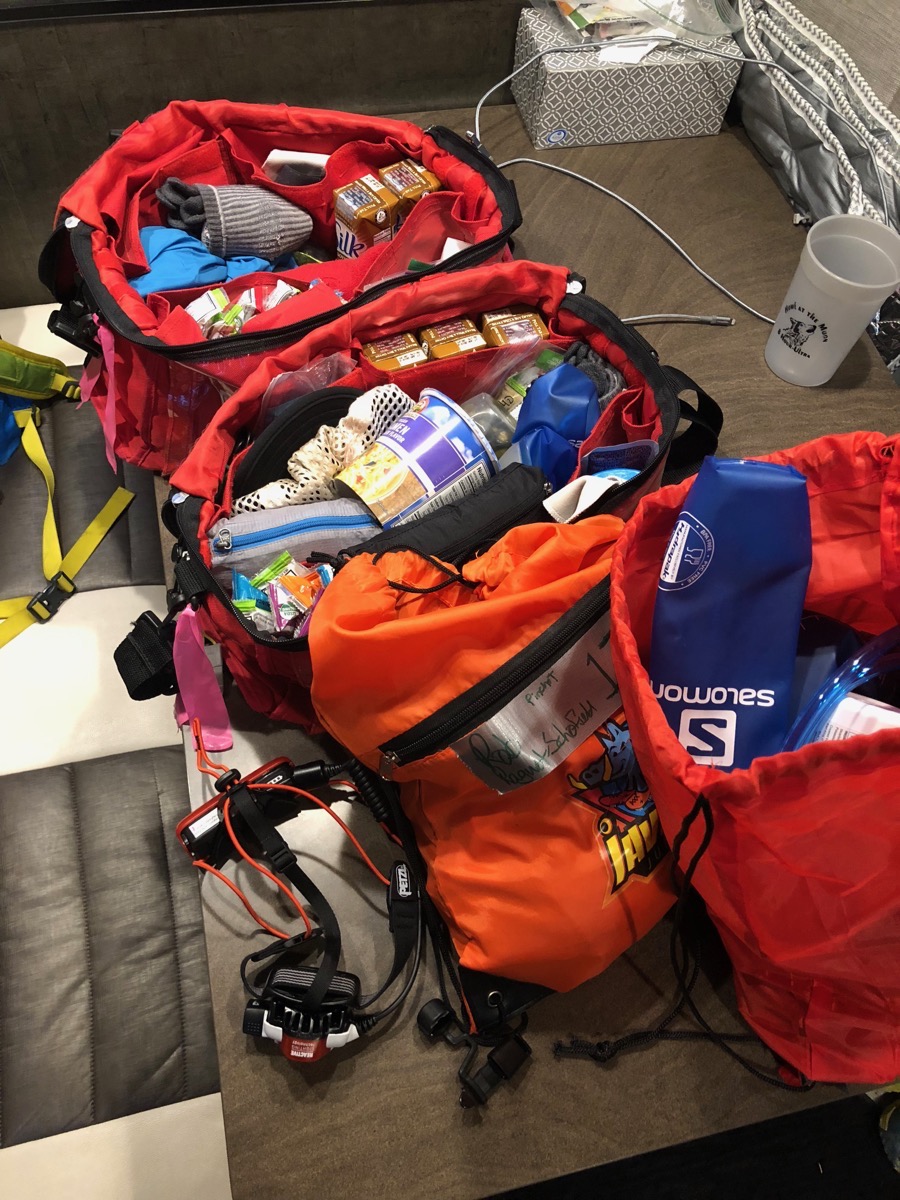 Drop bags filled with chocolate soy milk and pickles.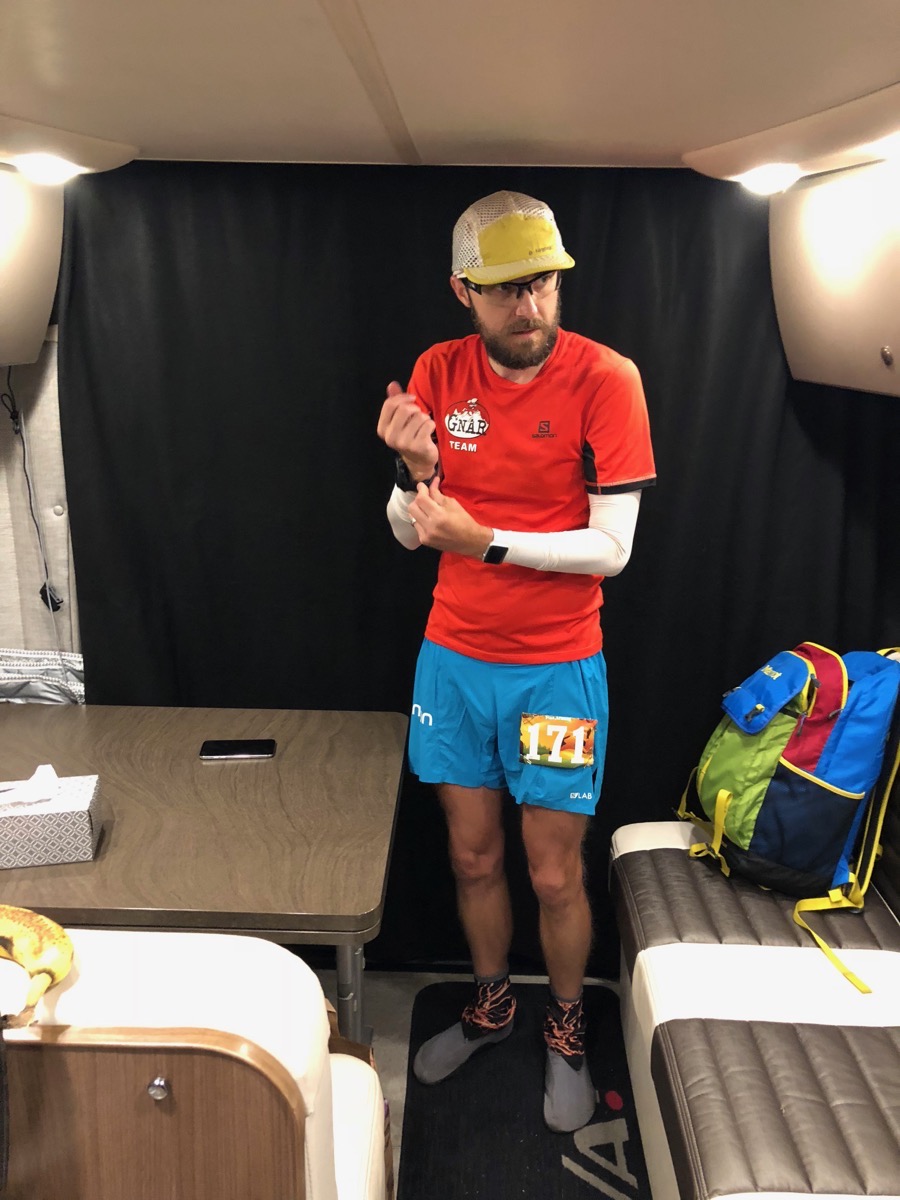 Rob getting ready. Photo by Stephen Pretak.
This would surely be my slowest 100 mile run to date, almost certainly the first time it would take me longer than 24 hours. I was confident I could make the 36 hour cutoff, but I really didn't put much more thought into my finish time. 24 hours? Probably not. 36 hours? Most likely. 30 hours? Sure, why not. All I need is a finish.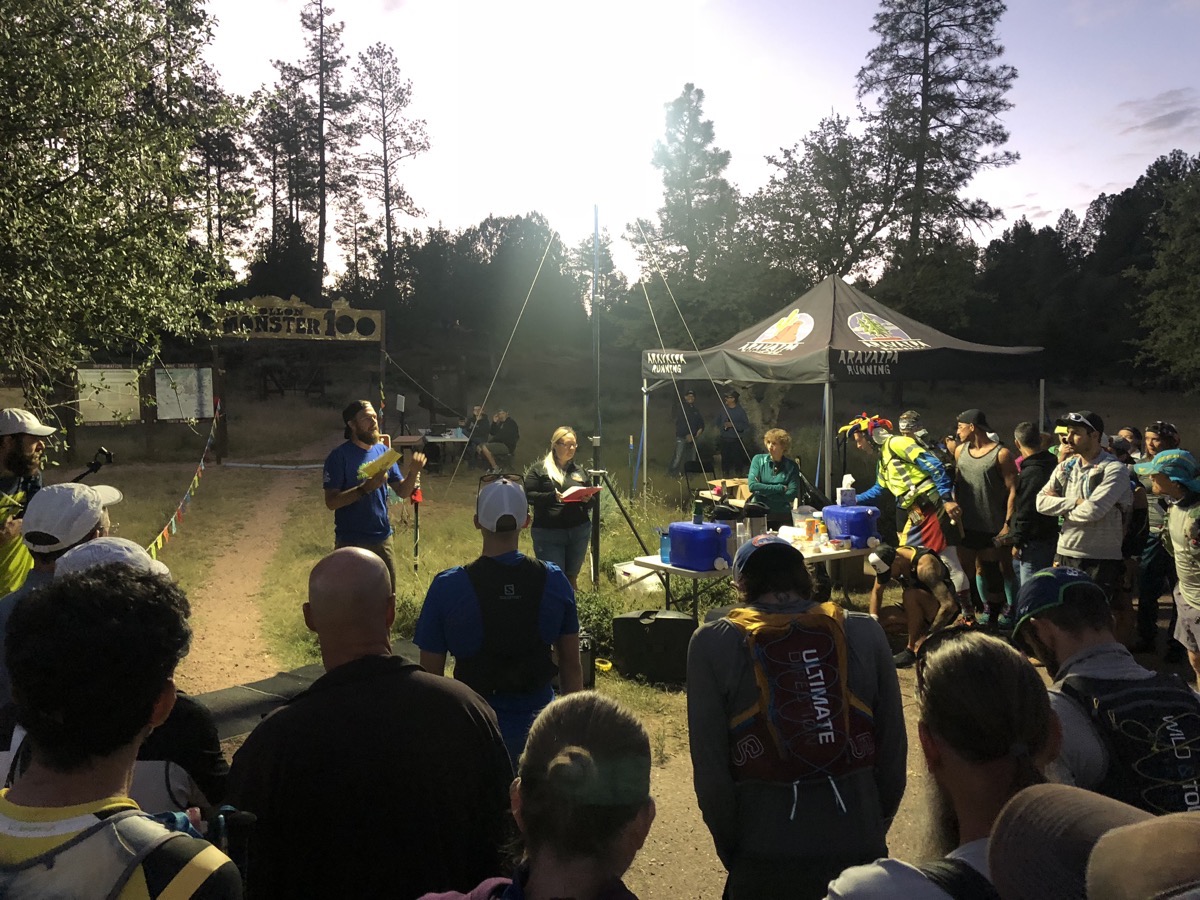 Pre-race announcements.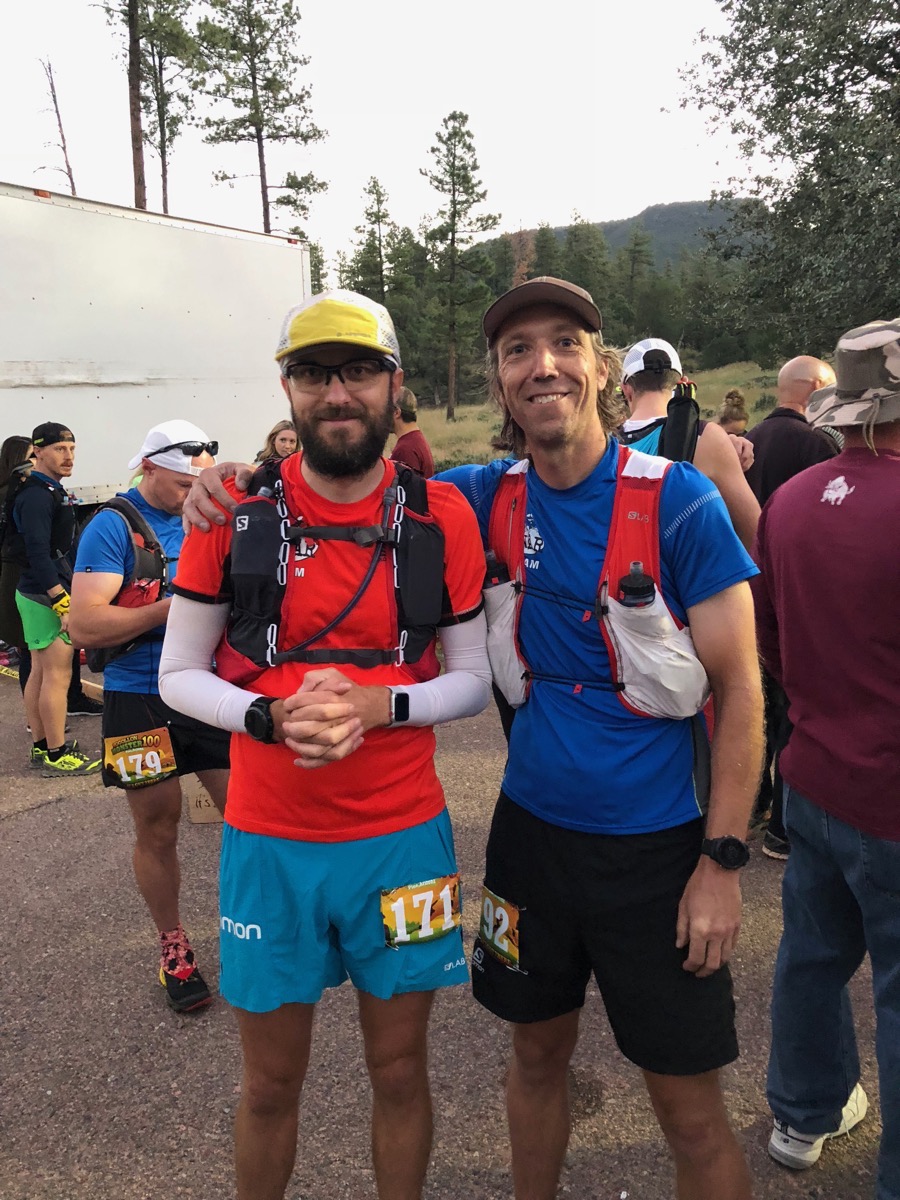 Rob & Elijah at the start. Photo by Stephen Pretak.
The race started immediately onto single track. I mean immediately, like within 10 feet of the starting line. I've never seen anything like it. This necessarily spread the field out. My friend Elijah also ran the race and he took the lead heading up the first climb. I took a much more conservative approach and allowed 20–30 people ahead of me. The first big climb was rather comfortable for me, at an all-day pace, and after taking in some beautiful golden hour views all the way up, I was at the top of the climb approaching the first aid station.
We immediately descended back to the bottom on a very loose, gnarly trail. I made a few passes along the way, and after a bit of route-finding confusion, I was back at the bottom of the rim where I reached the 11 mile aid station where crew access was allowed. My friend Stephen was there for me (along with our friend Kris, who was crewing for Elijah) and I was in and out in no time.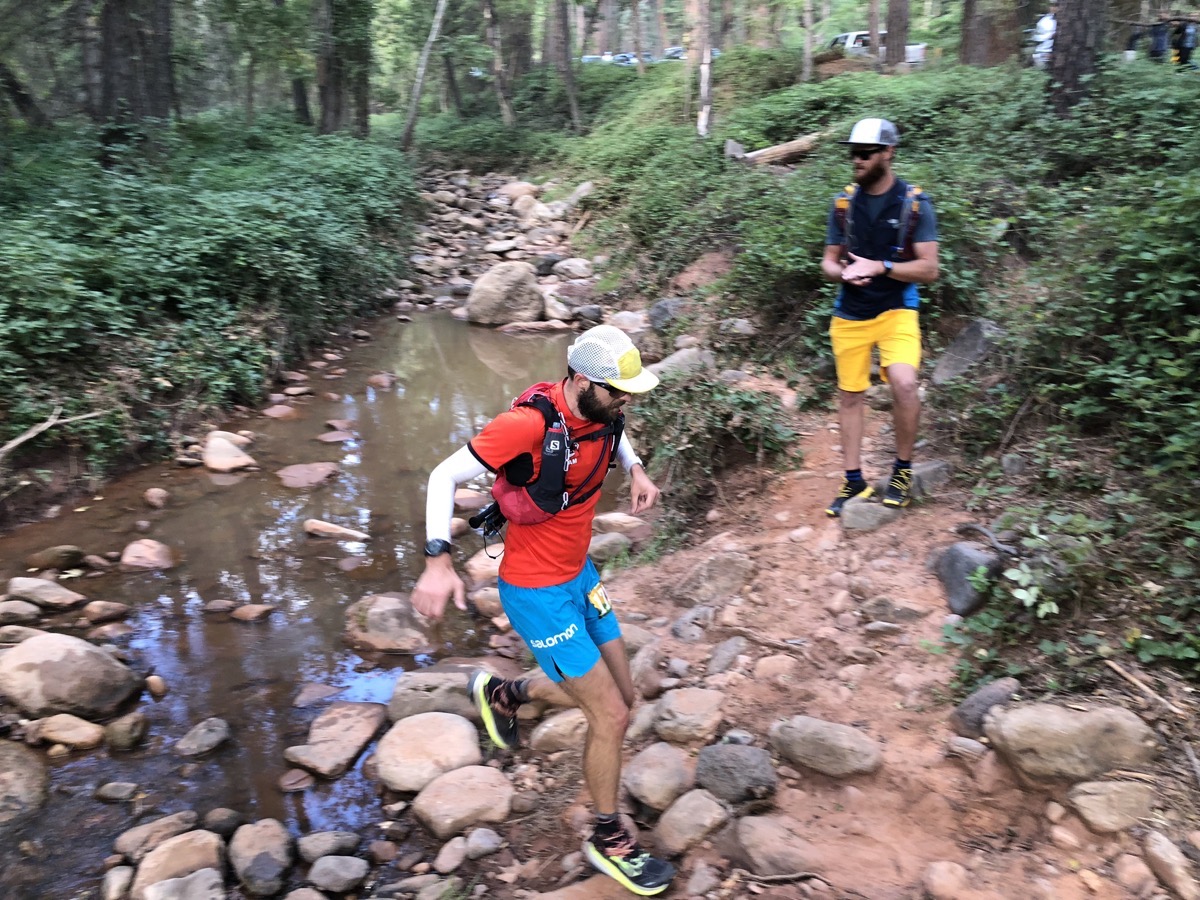 Reaching the mile 11 aid station. Photo by Stephen Pretak.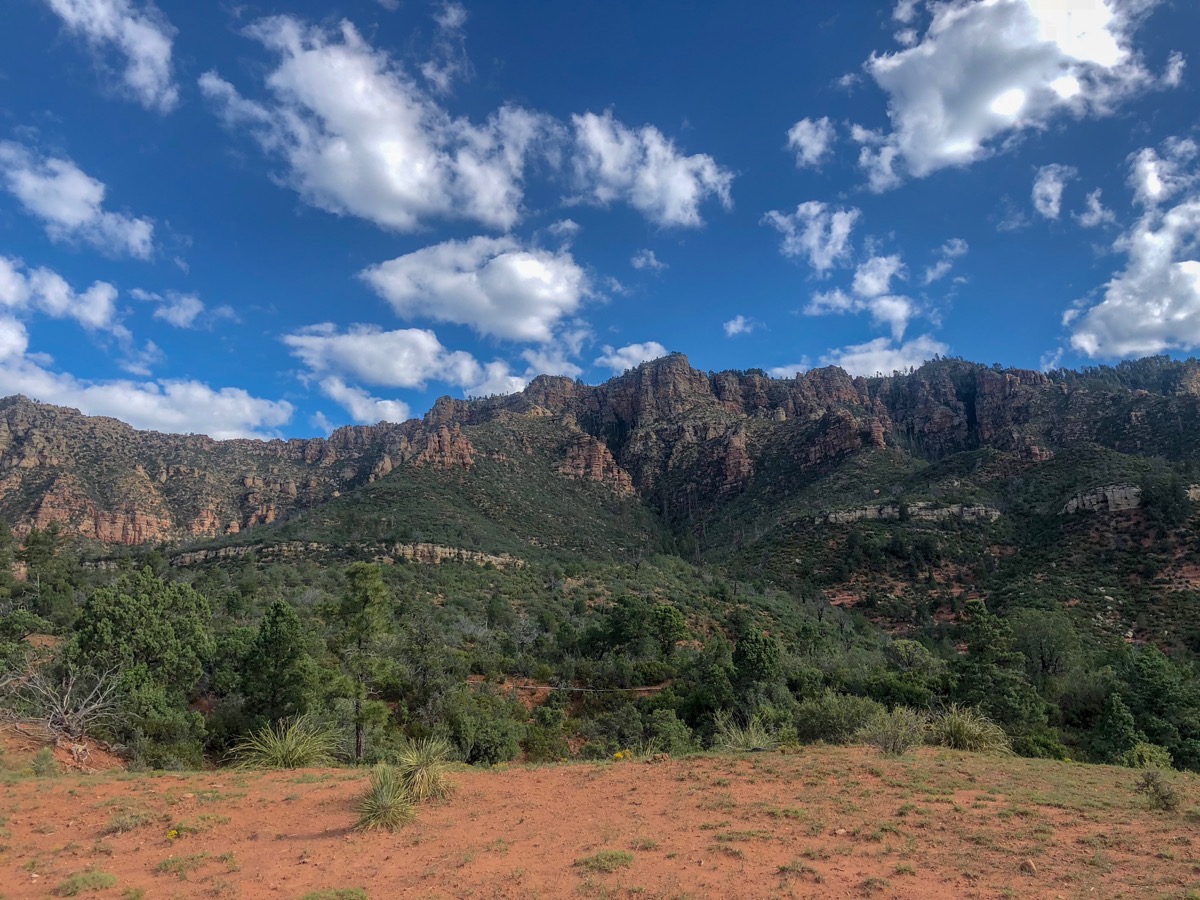 The Mogollon Rim from the Arizona Trail.
It was still cool at this point, but it would begin to heat up over the next 10 miles. By the time I reached the 21 mile aid station (where our crew would wait for the next 14 hours, since we'd come back here two more times) I was a bit dehydrated and ready for ice on my neck.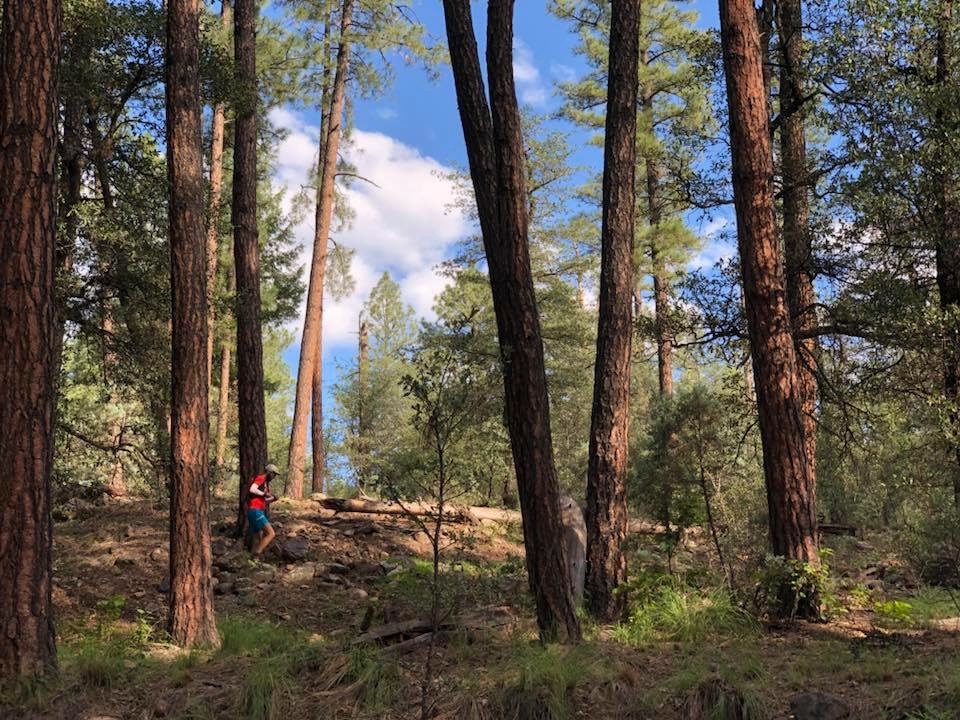 Photo by Kris Tyson.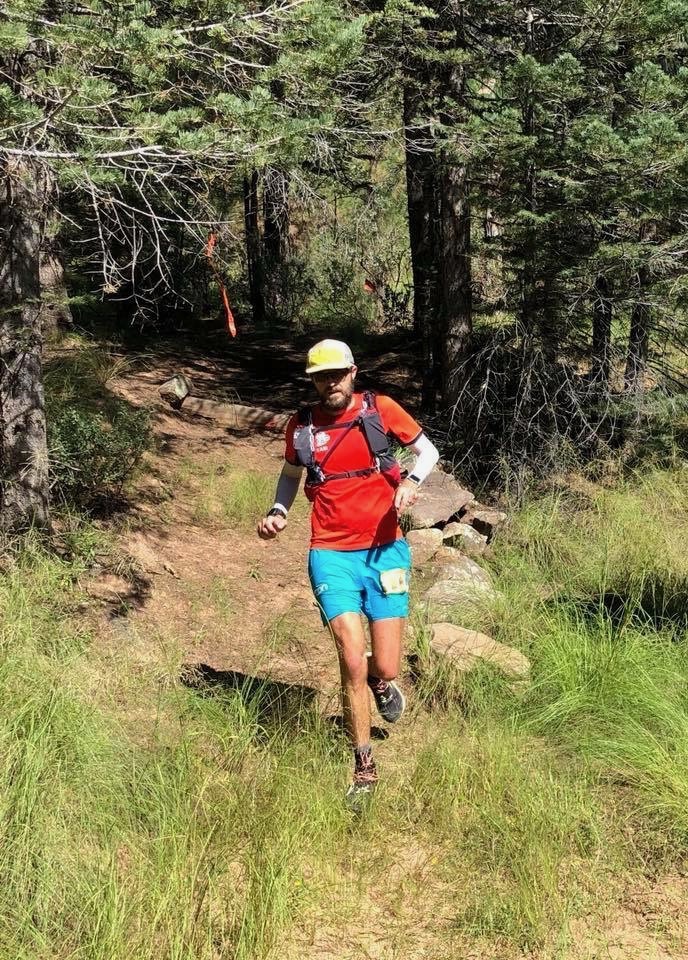 Photo by Kris Tyson.
Next came another big climb, including some laughably technical trail (which we would later descend two times). We spent nearly 20 miles up on top of the rim during the hottest time of the day, which was good because the temperature was a bit cooler at the higher elevation and there was more shade up there in the pine forest.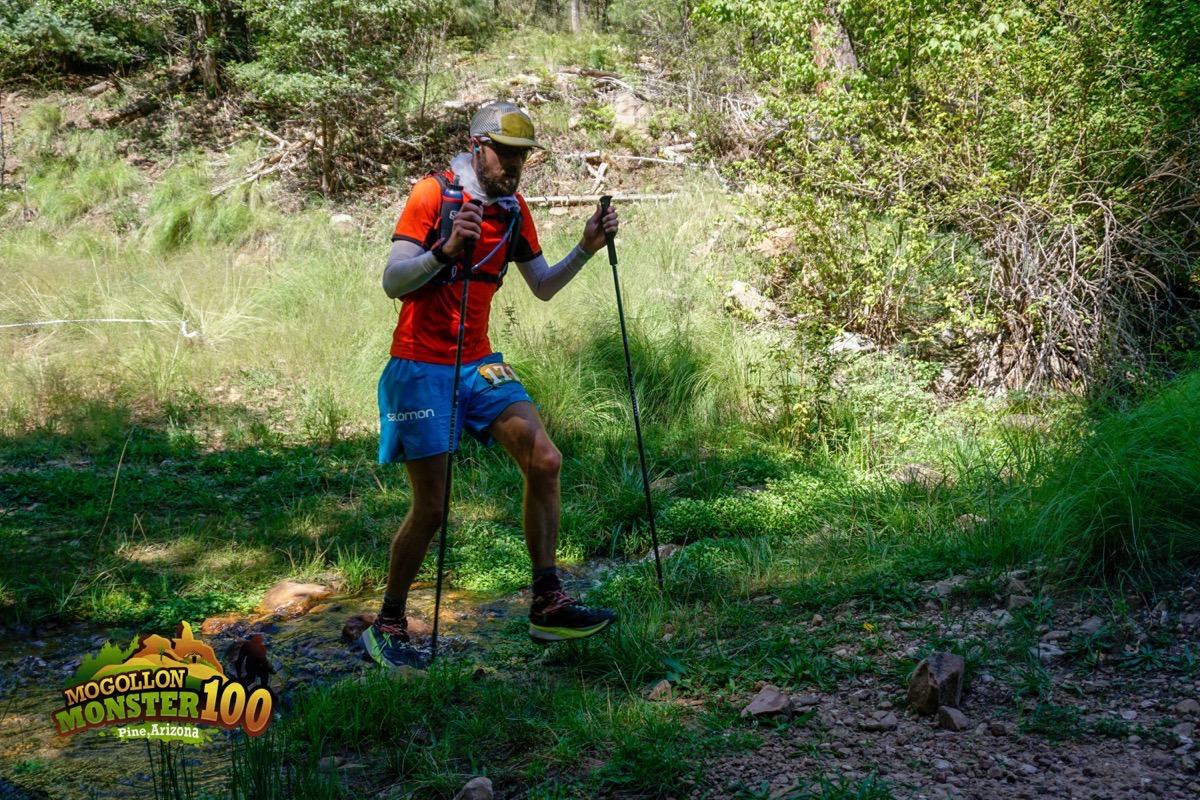 Photo courtesy of Aravaipa Running.

Photo courtesy of Aravaipa Running.

Photo courtesy of Aravaipa Running.
I was feeling good at this point in the race. There were a few miles on gravel road, before a long (like 6 mile) gradual downhill. I was moving well. This part of the trail was heavily trafficked by backpackers and day hikers. They didn't slow me down at all, but it was good to know I wasn't completely alone in a very remote location.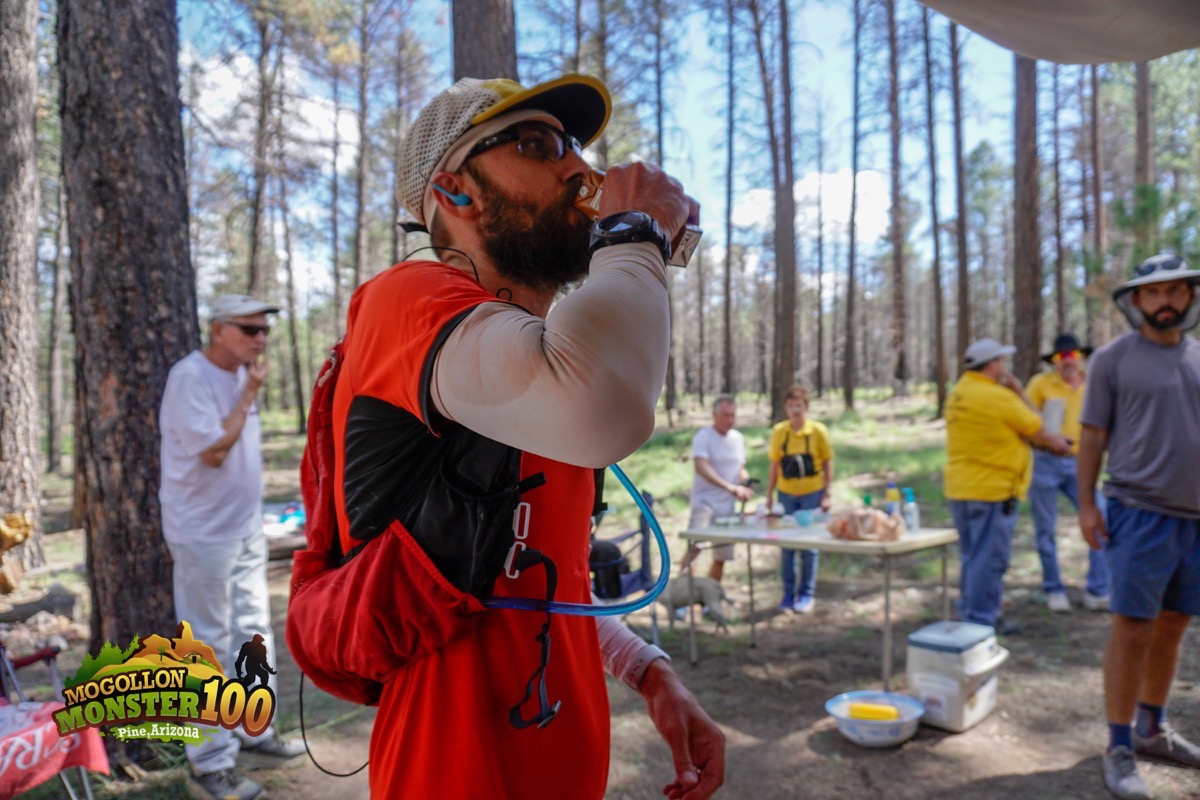 Photo courtesy of Aravaipa Running.
At the mile 35 aid station I made my first real blunder of the race when I left my trekking poles at the aid station. I realized this 1–2 minutes after I left. I quickly weighed the option of leaving them there (I would return to this aid station at mile 67), but that would leave me without them for plenty of uphill where I would really want them. In the end I went back to get them. It was a few lost minutes (and some extra time on my feet), but it was totally worth it.
The next 6–7 miles were gradually uphill and this is where my day started to go into steady decline. It was hot. I wasn't drinking enough. I've been going uphill for a long time. My calves are cramping. My toes are cramping. And when I get done with this I have a nasty, steep, loose descent back down to a lower, hotter elevation.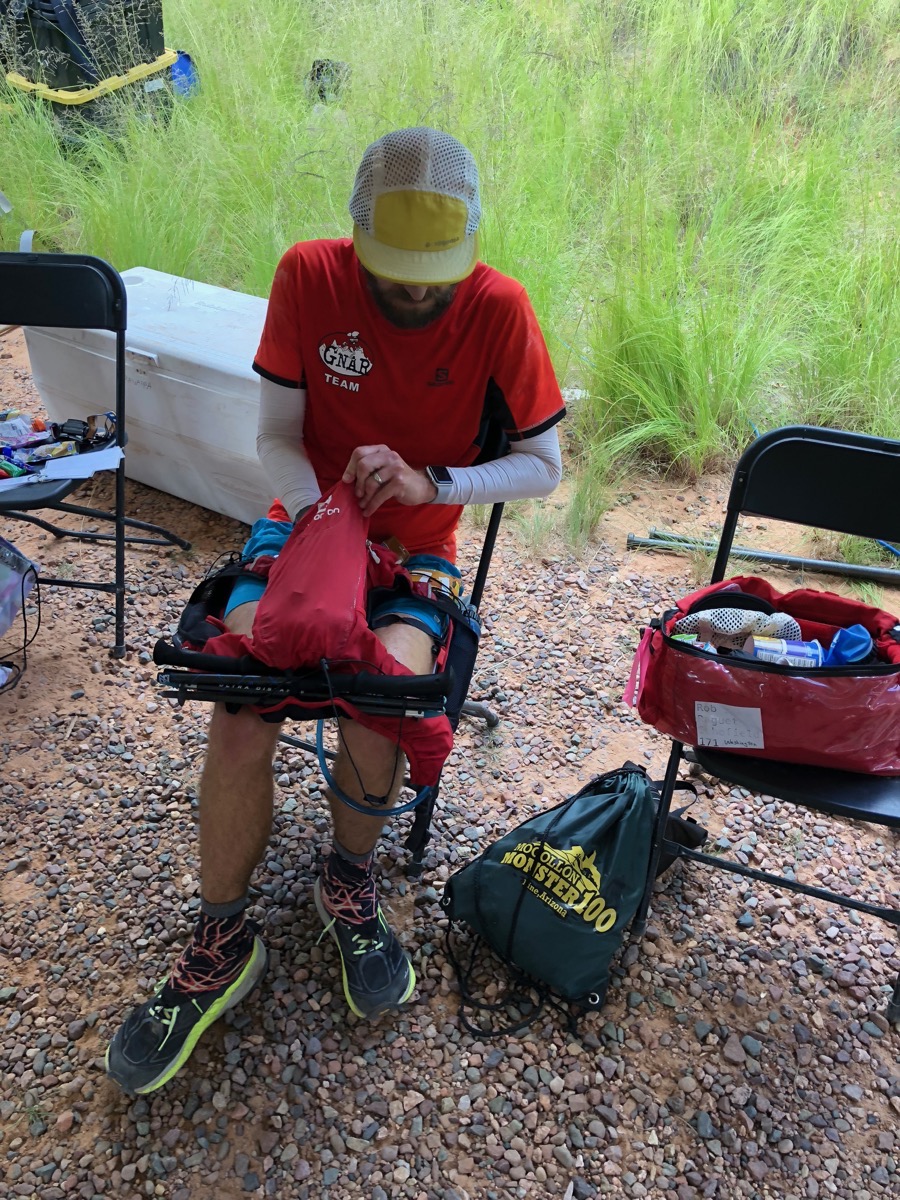 Photo by Stephen Pretak.
I picked up my headlamp at the mile 43 aid station, where Stephen and Kris told me I had about three hours of daylight left. But what that really meant was that I had three more hours of heat. This next section was my low point of the race. I didn't count, but between 10–20 people must have passed me. I walked most of the way to the next aid station. Once there I drank a bunch of Gatorade (which I normally stay away from during races) which, along with S-CAPS, salted potatoes, etc. helped get my electrolytes back to a reasonable state.
The third climb to the top of the rim was nasty. Most of it was off trail (there had once been a trail there, but it hasn't been used in years) and it was difficult to navigate. The diminishing sunlight exacerbated the navigation problems. I thought I could make it to the top before turning on my headlamp, but I ran out of daylight about 10 minutes from the top. It was good to finish that climb, and even better to be on an easy-to-navigate gravel road for the next few miles, and even better to have decent running weather.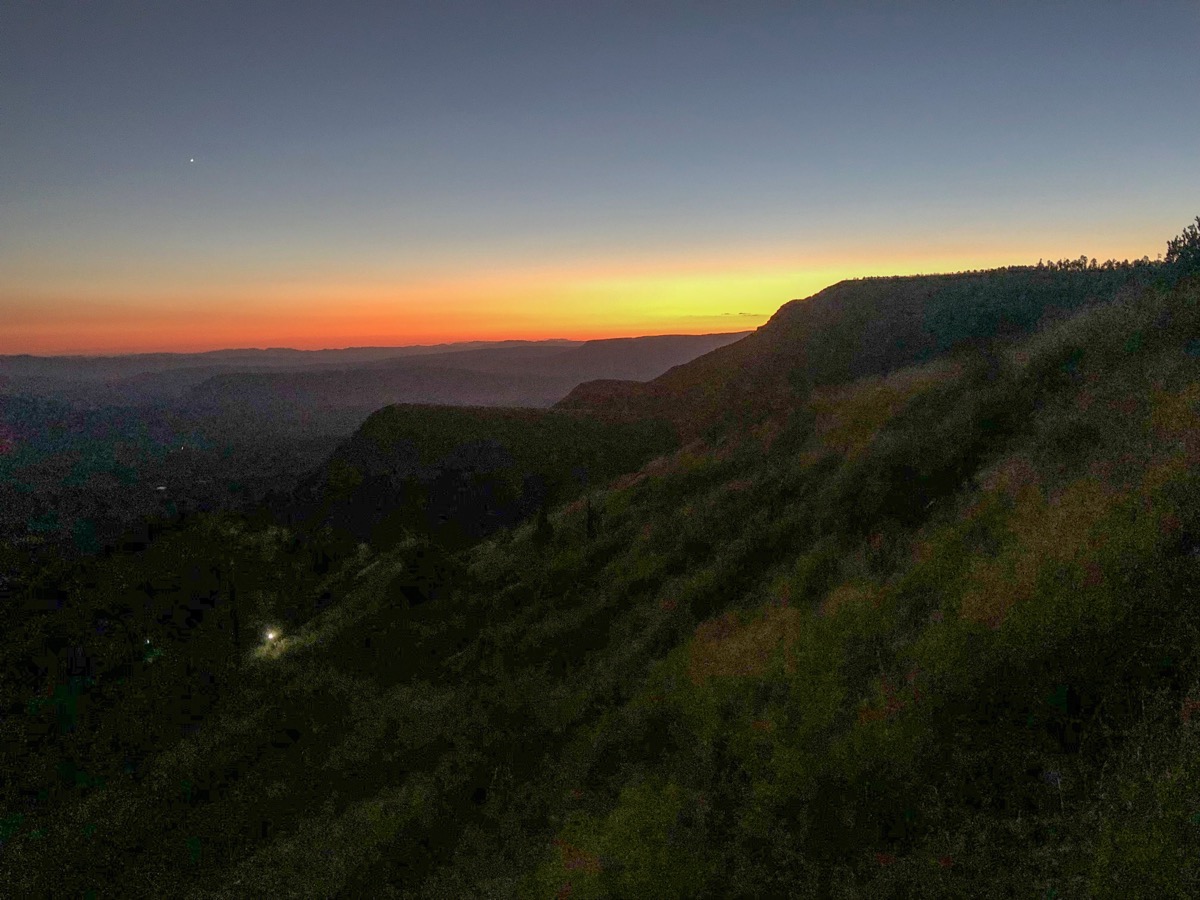 View from the top of the third climb up the Mogollon rim just after sunset.
This is the part of the race where I began to come back to life. I got in and out of the mile 58 aid station and walked a few minutes to allow my stomach to settle from the aid station food & drink. Then I ran slowly. Then I ran faster. Then faster. Within a few miles I was running fast. I was passing people. I would see headlamps off in the distance and within a few minutes they'd be right in front of me, and then within a few more minutes they'd be far enough behind me I could no longer see them.
At the mile 67 aid station I made sure not to leave my trekking poles behind as I made my way out. The next section of course was a long gradual uphill. I was too tired to run this, even though it wasn't very steep. So I hiked as fast as I could hike. I made good time. Then I was back on the gravel road and running 10 minute miles.
The nasty descent down to the mile 80 aid station was even nastier in the dark, but I got it done. As I reached the aid station I was shocked to see my friend Elijah just leaving. I hadn't seen him all day, with his aggressive start and my more conservative start, but I had nearly caught up.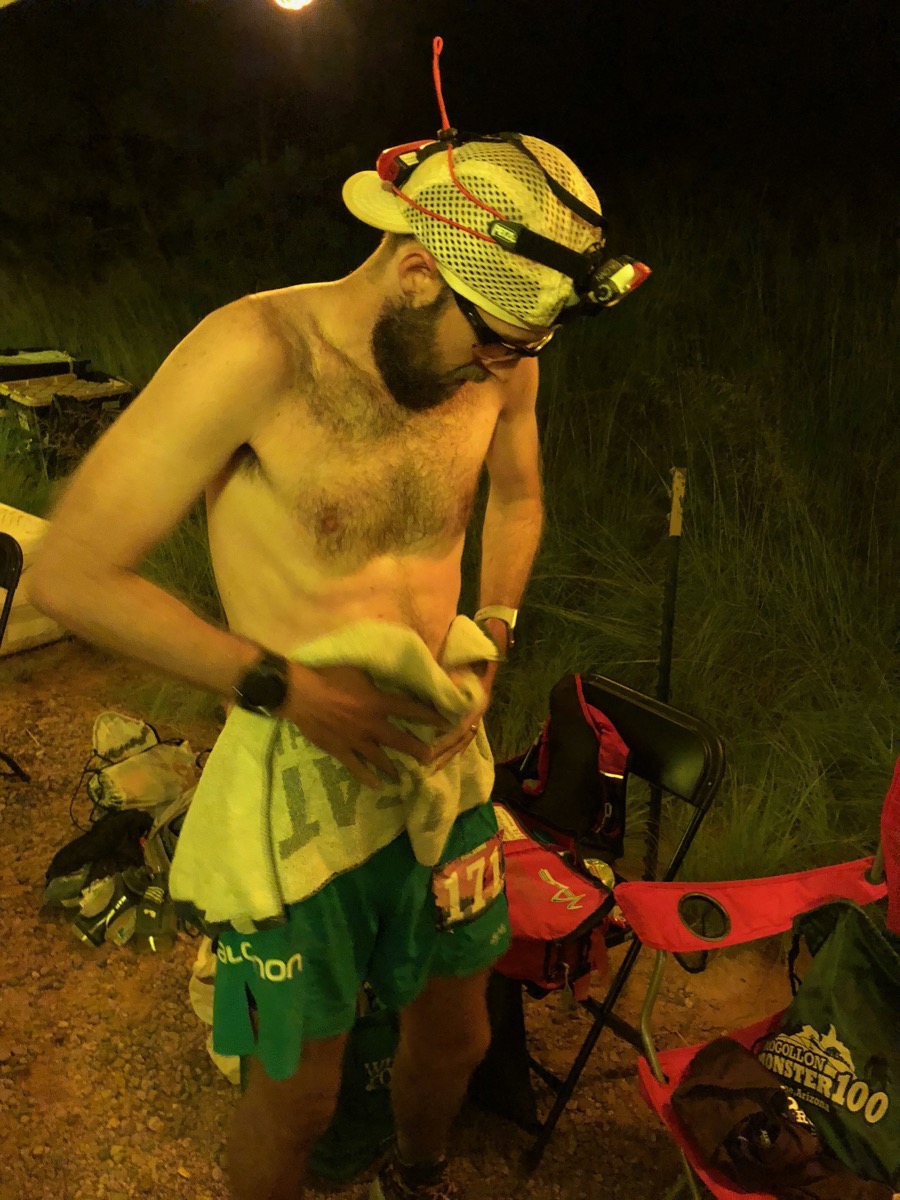 Changing into a dry shirt around midnight. Photo by Stephen Pretak.
The next 10 miles kind of killed my momentum a bit. The terrain was rolling, but it was just a little too rocky and technical to really run more than a few steps at a time. So I did a lot of fast hiking, and a very tiny bit of running. As I approached the mile 90 aid station a runner caught up to me, and, SURPRISE! it was Elijah. He had taken a wrong turn and I had passed him without knowing it. But now he caught up. He was moving well again. I was feeling good. We reached the aid station at roughly the same time and left together. Our friends informed us we were third and fourth place. This came as a big surprise to me, as this was the first I had heard of my place all day, and so many people had passed me at various points.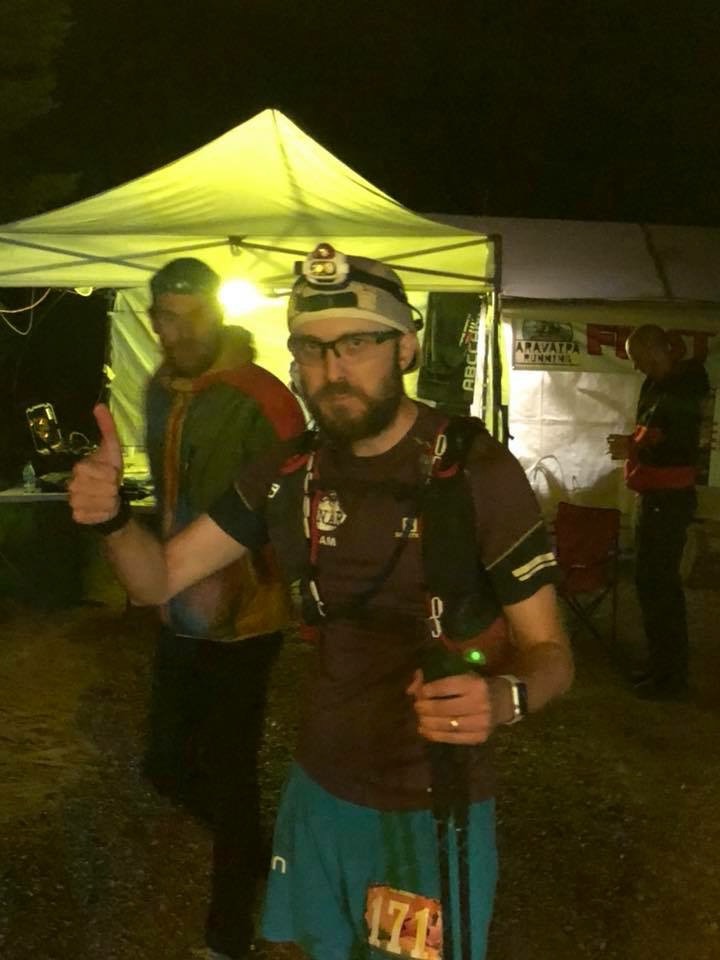 Just 10-ish miles to go. Photo by Kris Tyson.
So we began our way up the final (and steepest) climb. Elijah went a bit quicker than me. I saw him at the top, just a couple minutes ahead of me, so I made chase to try to catch him (and also keep from getting caught by another runner whose headlamp I saw a few minutes behind me on the climb). But no matter how fast I ran in the final 5 miles, Elijah just went even faster. I finished in 24h56m24s, about 7 minutes after Elijah. He was third, I was fourth.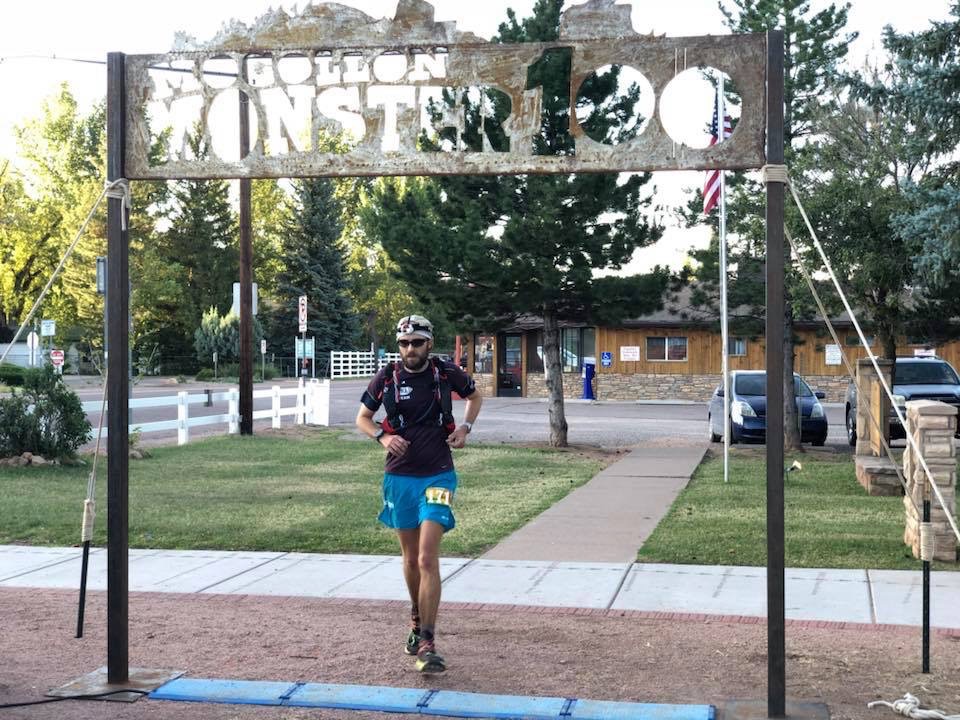 Photo by Kris Tyson.
It was a darn good result, far better than I was expecting. I did have a rough patch, but most of the race went really well for me. The second half of my race was only about 30 minutes slower than the first half (rather than my typical 3–6 hours slower). As a bonus on top of a good race, now I can enter the Hardrock lottery.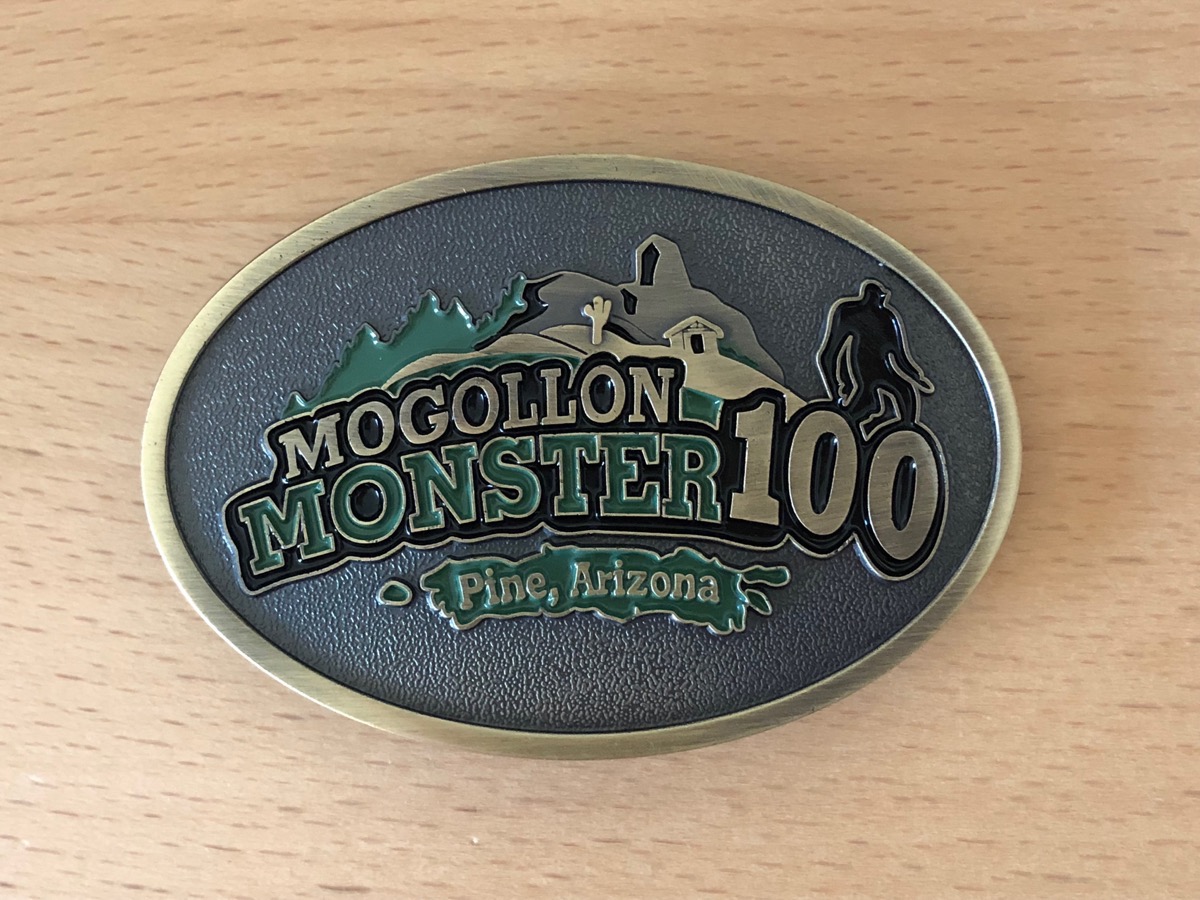 Finisher buckle.