My second attempt at the Howl at the Moon 8 Hour Run came last week. Last year this race was my first attempt at running ~50 miles (or anything farther than 50K). This time around I've already completed two 50+ mile races. I trained and raced well all summer. The weather was not supposed to be too hot. In short, things were looking good. I didn't have a specific distance goal in mind, I just really wanted to run farther than last year.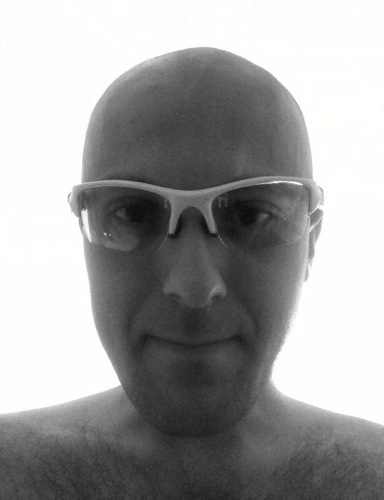 Ready to race
With more confidence and better fitness I started the race a little bit faster this time. My first marathon of the day was 3h33m (compared to 3h45m last year). I knew I would slow down in a few more miles, so I tried to do it gradually, rather than have my pace fall off a cliff like last year.
In both of my previous 50+ mile races I went through a real rough patch from miles 35-45. This race would be no different. My quads were shot. They ached with every step I took. The fatigue was unmistakable. While this was uncharted territory for me a year ago, I was expecting it this time. And I was looking forward to it.
Instead of slowing to a crawl and wallowing in my misery I kept putting one foot in front of the other. Sure, I slowed, but not nearly as much as last year. Given the bad patch hit me at the exact same place as my two previous 50+ mile races, I had reason to believe I would also snap out of it in the same place as I did in my two previous 50+ mile races. During that whole spell I kept thinking to myself:
I just have to deal with this for a mere 10 miles. I can deal with anything for 10 miles.
I got this.
It wasn't pretty, but I did what had to be done. The beast you know is far easier to tame than the beast you don't know. The race wasn't any easier for me physically this year, but it was way, way easier mentally. It's pretty amazing to me how much of a difference that can make.
I had gone fast enough early on that I was over a full lap ahead of a very experienced acquaintance, TC, with whom I tied for 9th place last year with 50.35 miles. Around mile 45 TC caught back up to me (so I was exactly one lap ahead). He congratulated me on a great race (which was classy) then pushed past me. As he was pulling away I was snapping out of my funk. After a while he stopped gaining on me. Then I started to come back to him. By the time I reached him we were both energized and ready to finish strong. We ran the last two laps together, and I finished my 16th lap with 10 minutes left on the clock. Melissa finished her 13th and final lap at the same time. TC and I went out for another mile on the out-and-back section that opens late in the race.
I finished with 53.64 miles, bettering last year's mark by one full 3.29 mile loop. Melissa ran 42.77 miles, bettering last year's mark of 40.48 miles. I was 3rd place overall and 1st in the Open Male (under 40 years) division. Melissa tied for 22nd overall, 11th female, and 3rd Open Female (under 40 years). There were 333 people in the race, so she uncorked a big one. TC again finished with 50.35 miles (with 0 seconds left on the clock).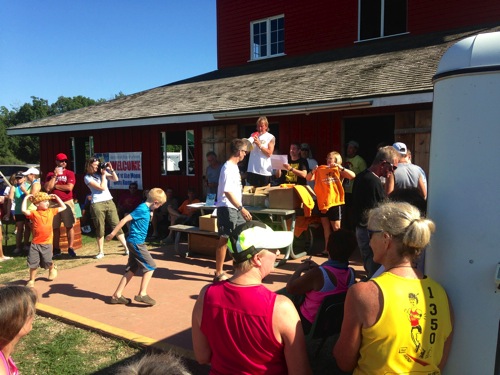 TC gets 4th place award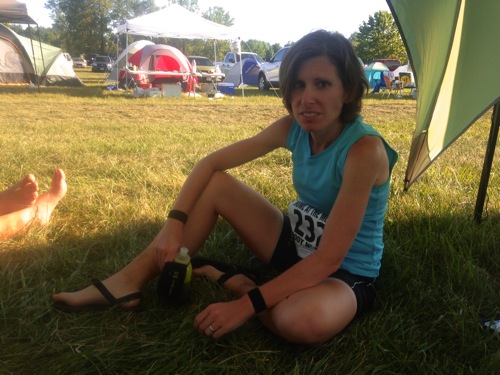 Melissa recovers in the shade
There were a few other notable tidbits from this race. My first marathon of the day was 3h33m (my 5th fastest marathon ever). My second marathon of the day was 4h12m (still faster than the first marathon I ever ran). My 50 mile split was 7h24m (much faster than the 7h50m it took me to reach 50 miles last year at Howl, and faster than the 8h45m it took me to reach 50 miles at Berryman in May, though that was a much harder course).
It was great to run Howl again this year. It's so fun and well organized. It was great to see so many of our friends from our former home of Champaign-Urbana. This race has turned into something of a homecoming for us these past two years, and I'm quite pleased that both of us were able to put in really fine performances.