My next A race is the Double Chubb 50K, which is 10 days away. Last week I was still training pretty heavily. On Sunday I did 16.5 miles on the Chubb trail at roughly race pace, which left me sore for a few days. Monday I ran 10 miles. Tuesday I ran 10 miles. Wednesday I ran 10 miles, half of which was fast hill repeats. Thursday I was presented with an opportunity to run in the GO! Saint Louis Marathon that weekend.
Most marathon training plans suggest running about 20 miles in the week before the race. I did 51, so I wasn't particularly well rested. It will be a good training run, I thought, a C race. Plus it will be a good opportunity to run in my Mr. Incredible costume, which should be fun with thousands of participants and thousands more spectators. The fun started on the train going to the race when a woman asked if she could take a photo of me to show her son.
I lined up just behind the 7:15 pace group. I was planning to run faster than that, but I certainly wanted to start conservatively. I wasn't exactly prepared for what would happen once the race started. A quarter mile in I was running about 6:30 pace (well behind the 7:15 pace group) and I was getting swarmed on all sides as everyone was blowing past me. What the hell is going on? Do all these hundreds of people passing me not realize how fast they're going? This is going to end badly.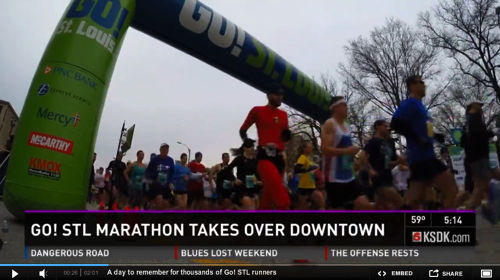 I stuck with the conservative plan, reaching the first mile in 6:52. The 7:15 pace group was 20 seconds ahead of me instead of 20 seconds behind me. The second mile (downhill) was 6:41. The third mile (uphill) was 6:55. The fourth mile (downhill) was 6:33. These splits weren't very even, but that's what happens when there are hills (and there were hills). By now I've passed tons of the fast starters and I'm back ahead of the silly 7:15 pace group.
These early miles had the first out-and-back section, where thousands of slower runners first saw my costume and did a lot of cheering for me. There were also early aid stations where young volunteers in particular were very excited to see me. This was just a taste of what was to come.
I was confident I could average 6:50 pace throughout the entire race. If things go really well I may even be able to do 6:40. Miles 6-8 were Holy Hill, a two mile stretch with three big rolling hills in a row. When did Saint Louis get so hilly?

6:47, 6:40, 6:41, 6:38, 6:33. Okay, so I may have gotten a bit excited on the big hills. My heart rate jumped up a bit. Let's try to calm down. There are lots of spectators through midtown and everybody's cheering for me. Every young child who sees me gets excited. I'm giving them high fives. Every college student near SLU (who would have been a child 10 years ago when The Incredibles was released) loved it.
Before long the half marathon runners split off from the marathon runners and turned toward the finish line while we continued out toward Forest Park, where I run several times per week. Now this was my turf. The field thinned out considerably. I ran around the same three guys for the next 8 miles or so, all within 15 seconds of each other. As I caught up to one guy he looked over at me and said, "Oh, that explains a lot. I was wondering why everybody was calling me Mr. Incredible."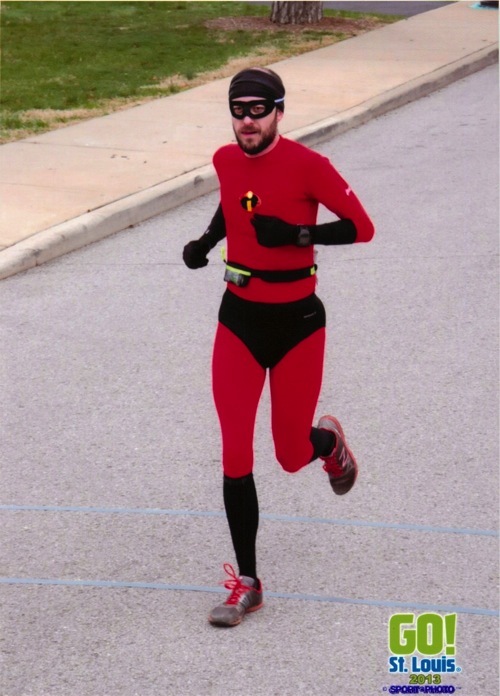 1:28 at the half marathon. This is easy. Well, it's supposed to be easy at that point. Coming out of Forest Park came the biggest hill of the race. Fortunately, this hill is right by my house and I run up it almost every day, so I was prepared. It was warming up a bit from the 39˚F start so I took my headband off and stashed it near my house so I could pick it up after the race.
More rolling hills through downtown Clayton. Then we hit a stretch of the course I'd never seen before as we headed up to Delmar. More rolling hills on Delmar, then a nice gradual downhill through The Loop.
I passed a few people I'd been chasing for miles as either they slowed down or I sped up. I pulled up beside one guy as we passed a spectator who shouted out, "I like your outfit!" The other runner and I looked at each other. I said to him, "I think she's talking to you."
Next I passed Jenny, who had as many people cheering for her as I did. Jenny went on to win the race, finishing 1 minute behind me.
I'm 20 miles into the race and it still feels easy. "Go Superman!", I hear someone shouting at me. I look over and it's a nun standing on the sidewalk. It brings a grin to my face, so I'll forgive the mistake. Next I pass through the final marathon relay exchange point. It's packed with 600 people and they're all cheering for me. And I'm egging them on.
Miles 21 (6:35) and 22 (6:34) I notice it's no longer easy. I still maintain a strong pace. Then came mile 23 (6:58) with the first hills in 5 miles and it suddenly became hard. Well, that's to be expected. This mirrors what happened in the marathon I ran last spring. In that case I completely collapsed and slowed way down. Let's try to avoid a repeat.
Mile 24 was relatively flat and I got back down to 6:40. Mile 25 had some more uphill sections and I was back up to 7:00. Hold it together. I was running beside thousands of half marathon participants at this point. Lots of them cheered me on and I kept moving. There's a fairly brutal hill in mile 26 but I pushed hard and cranked out a 6:42, and I kept speeding up all the way to the finish line. The spectator support in the last mile was fantastic.
About ⅔ of the spectators who cheered for me throughout the race recognized me as Mr. Incredible. Most of the rest just cheered for the superhero. Other names I heard were Incredible Man (close), Dash (close enough), Superman (less close), and Batman (not close at all).
I finished in 2:56:19 (6:41 pace), meaning I ran even splits (1:28, 1:28) in a marathon for the second time ever. It was the fastest marathon I've ever run, and to be completely honest, it was the easiest marathon I've ever run (the next easiest marathon I've run was the other one where I ran even splits). The first 20 miles were a warmup. Then I had 2 moderately difficult miles and 4 very difficult miles. Basically it was like running a 10K, except I'm far more sore afterward.
Speaking of which, I can definitely tell something has changed either in my form or in my musculature over the past 6-12 months. I used to have a lot of soreness in my quads, a little in my hamstrings, and none in my calves after long races. More recently I have a lot of soreness in my hamstrings and calves, and just a little in my quads. I'm using different muscles. I haven't quite figured out what to make of that yet.
Here's a quick comparison of this marathon to the last one. At mile 15 I was only 19 seconds ahead of last year's time, but by the finish I was over 6 minutes ahead. Incidentally, I just realized that I wore the exact same pair of shoes in these two races (with several hundred miles in between them).
Frisco Railroad Run 2013
GO! St. Louis Marathon 2014
Time
Split
HR
Time
Split
HR
Mile 1
00:06:57
06:57
142
00:06:52
06:52
137
Mile 2
00:13:51
06:53
148
00:13:33
06:41
148
Mile 3
00:20:41
06:50
151
00:20:29
06:55
152
Mile 4
00:27:34
06:53
152
00:27:02
06:33
148
Mile 5
00:34:28
06:53
155
00:33:50
06:47
151
Mile 6
00:41:15
06:47
157
00:40:31
06:40
156
Mile 7
00:48:07
06:51
158
00:47:13
06:41
157
Mile 8
00:54:49
06:42
159
00:53:51
06:38
160
Mile 9
01:01:23
06:34
161
01:00:25
06:33
157
Mile 10
01:07:58
06:34
164
01:07:05
06:39
160
Mile 11
01:14:30
06:32
163
01:13:44
06:39
157
Mile 12
01:20:59
06:29
161
01:20:33
06:49
163
Mile 13
01:27:29
06:29
161
01:27:03
06:30
160
Mile 14
01:34:04
06:35
169
01:33:42
06:39
164
Mile 15
01:40:46
06:41
169
01:40:27
06:45
167
Mile 16
01:47:30
06:43
167
01:47:09
06:41
166
Mile 17
01:54:10
06:40
167
01:53:42
06:32
166
Mile 18
02:00:58
06:47
166
02:00:12
06:30
167
Mile 19
02:07:53
06:55
164
02:06:56
06:44
166
Mile 20
02:14:43
06:50
167
02:13:31
06:34
165
Mile 21
02:21:49
07:05
165
02:20:07
06:35
167
Mile 22
02:28:58
07:08
164
02:26:42
06:34
167
Mile 23
02:36:29
07:30
165
02:33:41
06:59
167
Mile 24
02:44:00
07:31
164
02:40:22
06:40
167
Mile 25
02:52:02
08:02
162
02:47:22
07:00
168
Mile 26
03:00:10
08:08
162
02:54:05
06:42
169
I think I have a bit of room for improvement even at my current fitness level. With more rest and a flatter course I could probably push 2:50. Who knows whether I could have run faster without the costume… I don't intent to find out. This experience convinced me that I will probably never want to run another road marathon in plain clothes again.