After first racing the New Town Triathlon last year, I've been looking forward to this one for a while.
I still liked the staggered swim start instead of the more common wave/mass start because it was far less congested in the early meters. One change they made this year was rather than starting in the order you registered (which put me at the very end last year) they started all members of the same age group in a row. Which is nice.

Photo courtesy of Big Shark
I was quite happy with my 1000m swim. Sure, I was minutes slower than the leaders (I'm not the strongest swimmer), but I was a full minute faster than last year. I've been working a lot on my swimming and I've been focusing on this distance.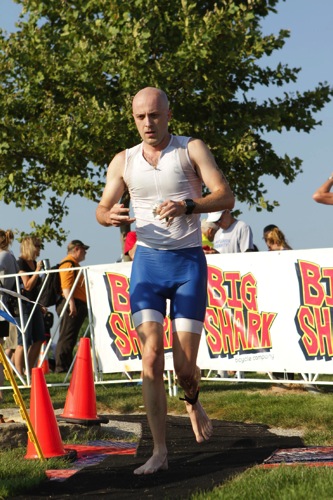 Photo courtesy of New Town Triathlon
The one thing about this race that didn't go perfectly was completely out of my control. Most races assign ranges of numbers to specific bike racks in the transition area and the first people to arrive take the locations nearest to the entrance/exit. This time they assigned specific locations to each individual number… and my space was at the very end of the rack as far away entrance/exit as possible. So my transition times were both several seconds slower than they could have been.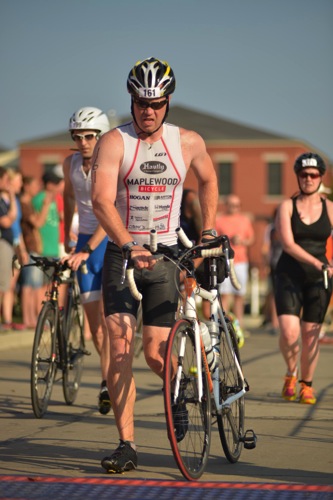 Photo courtesy of New Town Triathlon

Photo courtesy of Big Shark
I was a bit scared of the bike leg to be honest. I simply haven't put in enough work on the bike this season to race at a very high level. I've been relying on my running fitness to carry me through the few bike races I've done. But this was a 20 mile time trial with nowhere to hide. Fortunately, I felt really good and I was able to do the best ride I could. In the end I finished the bike leg 11 seconds faster than last year. I did have a bit of an off day during the bike leg of this race last summer. It was a good sign that, despite being the last person from my bike rack in the transition area to start the race, I was the first person to return from the bike.

Photo courtesy of Big Shark
I was really looking forward to the run. I did well last year, but it was super hot. I've been running much faster this year and the temperature was much more bearable. I eased into the first mile (which is always difficult after transitioning from a fast bike leg) before letting it rip for the last three miles. I ran 40 seconds faster than last year, averaging 5:54/mile for the four mile course.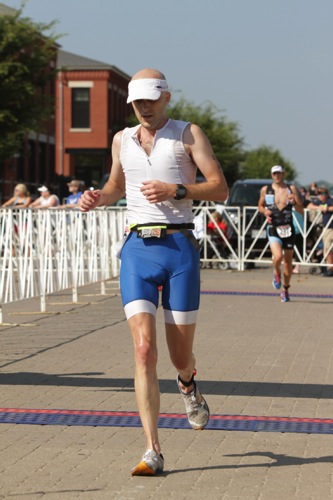 Photo courtesy of New Town Triathlon
Last year I finished in 1:35:39 for 14th place overall (not including elite racers) and 3rd place in the 30-34 age group. This year I finished in 1:34:16 for 8th place overall and 2nd place in the 35-39 age group. It's rare to have a race (particularly a triathlon) where everything goes as well as possible. I'm quite pleased about that.

Photo courtesy of Big Shark
After the race I caught my breath, then went running for another hour. Howl at the Moon isn't going to train for itself.