Well, that didn't take long. I did another obstacle race: MuckFest MS. Compared to the last one this was longer and hotter, had a greater quantity and variety of obstacles, and had more participants. I didn't prepare at all (in fact I did a three hour run just two days prior), this was really just for fun.
The competitive wave was the last to start (I would have thought it should be the first?), so the course was quite sloppy by 1:30 PM. It was brutally hot at 90˚F. You would think the copious quantities of mud on the course would help to cool you down, but you'd be wrong because the mud was hot too.
I started in the front row but quickly got swarmed before the first obstacle just 30 meters into the race.
There were longer runs between the next few obstacles, so I was able to catch up to and pass the leaders. Then I was knocked into a deep pool of mud by large swinging orange balls. I got mud in my eyes and couldn't see… but I couldn't wipe the mud out because my hands and clothes were covered in mud as well. Fun times.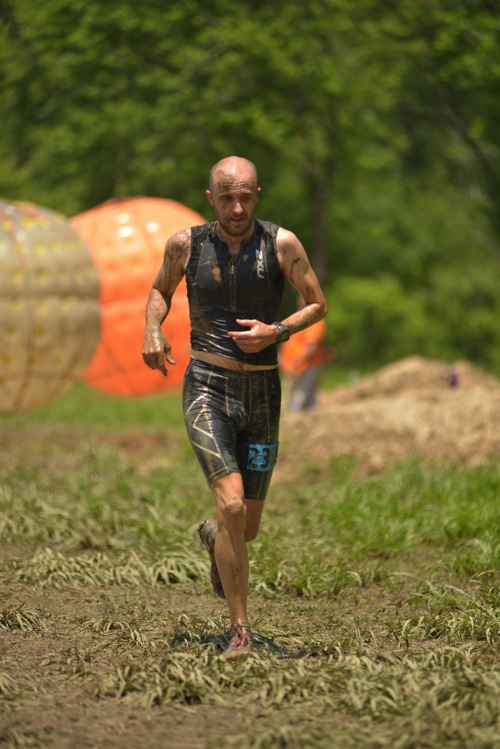 Photo by MuckFest MS
Most of the obstacles were straightforward. A few were new to me and non-obvious. The volunteers were generally helpful in explaining things, though not always in the timeframe I would have hoped for. I only had a few delays though. I cruised through many of the early obstacles just as fast as anyone else, but I was running faster. So I built up a sizable lead in the first half. In the second half, while baking in the sun, I eased up.
Then I reached The Spinner. It looks simple enough, but it was the hardest thing on the course for me. You have to hang onto a rope, suspended over water/mud for half a revolution (about 20-ish seconds?). All the ropes had knots tied at the bottom (so you could stand or sit on them)… except the one I grabbed onto. With no place to stand or sit I had to hang on tightly using my nonexistent upper body strength for what seemed an eternity when I was hypoxic. It completely took the impetus out of my effort.
I continued to run well the last mile, but I slowed significantly on the obstacles, making many silly mistakes. What I didn't know was the guy in second place was finishing strong. 100 meters and three obstacles from the end I was rather surprised to see him starting the obstacle just as I was finishing.
I managed to keep it together for a few more seconds to finish in first place by just 13 seconds. I completed the "5" mile course (it was closer to 4) in 32m33s. I wasn't proud of my collapse at the end, but it was a really fun event. The obstacles were just right in the spectrum of easy to challenging-but-not-impossible.
Judging from the number of people lighting up cigarettes as soon as they crossed the finish line, most of the 1600+ participants weren't too interested in the competition. They were interested in running, jumping, climbing, crawling, sliding, swimming, and playing in the mud like children.
Just like I was.