(Forgive my pop song references. Will and I watched Wreck-It Ralph on Saturday and the song from the closing credits was stuck in my head the entire race.)
Quivering Quads Half Marathon
If you would have asked me a week ago how I thought I'd do at this weekend's Quivering Quads Trail Half Marathon I would have responded: DNS. I was looking forward to this race for quite a while. Never having run the trail before, I wanted to go out there and take a peek at it before race day. Last weekend was the first chance I had.
The trail is only an hour away, but despite the fact that all the snow here in the city had melted days earlier, there was still a good 6″ of snow on the trail. Now, I don't mind snow (I've run in plenty of it), but this snow was like nothing I'd ever experienced. It was layer after layer of alternating crunchy and mushy. It was almost hard enough to support my weight when I landed, but then I sunk. As my foot rolled forward I sunk more. As I pushed off I sunk a lot more. I had planned to run the entire 13.1 mile course at an easy 9-10 minute per mile pace. After working my ass off for 3 miles, struggling to maintain 15-16 minute pace, I gave up and walked back to my car. This was the worst, least enjoyable run I've had in years. And I wanted no part of the race the following weekend.
I vowed not to change my mind as the week went on. But after a few good runs during the week, and some lovely warm weather at the end of the week I was having second thoughts. It was looking more and more like the snow would all melt and the course would just be exceptionally muddy. I'll take exceptionally muddy over the crap I ran through any day. Race is a go. Of course, on top of the huge quantity of melted snow, it also poured down rain the day before the race, and it was raining on the day of the race. Exceptionally muddy turned out to be an understatement.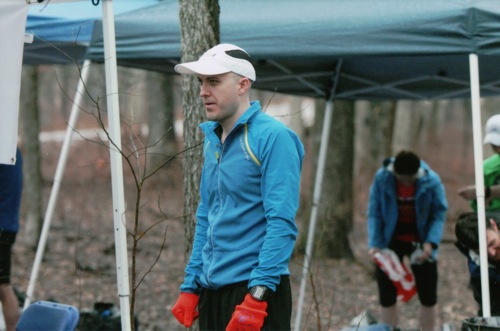 It's just a matter of time before we learn how to fly
The race starts in waves of 25 runners based on a self-estimated finishing time for a road half marathon. I haven't run one in 9 years, so I made up a time (1:23) that was actually faster than my old PR, but that I knew I could do. It was probably a bit conservative. What was funny was that the race numbers were ordered based on seed time. I was #9, and I could estimate roughly how fast everyone else was based on their bib numbers relative to mine.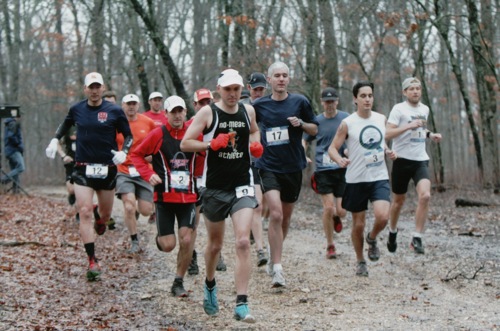 We began with a 1 mile out-and-back on a (muddy) fire road. Everyone was soaking wet from head to toe instantly. By the ½ mile turnaround I was in a group of four (#1, #2, #3, and me) who had a small gap. We turned onto the (muddy) trail and got down to business.
I've done plenty of trail races, and I've had a few stream crossings before, but never more than 2-3. This race had, I'm guessing, somewhere around 25. And given the massive snow melt in the past couple days, the water was frigid. Early on the water was ankle deep and the streams were narrow. As the race went on (and the rain continued to fall) the streams grew wider and deeper.
After 2 miles we hit an uphill section where #1 and #2 pulled away a bit. At the top I moved around #3 and caught back up to the leaders. Now we were a group of three. I felt good. I was running fast to stay in contact with #1 and #2, but I wasn't killing myself. I wondered how much longer I could sustain the pace. On a few of the uphill sections #1 and #2 opened a small gap on me, but I easily caught back up with them on the downhill sections.
Around mile 4 we hit a long uphill section and #1 and #2 pulled away from me like I was standing still. So much for being in the lead group. At the top of the hill I took some water at the aid station (#1 and #2 both skipped it) and I started to refocus. Then came a long downhill. I remembered back a few miles to how I so easily closed relatively small gaps on the short downhill sections. I began to wonder if I could possibly close the now-large gap on a bigger downhill. There's only one way to find out. I bombed the hill, and by the bottom I was back with the leaders. But for how long?
When can I see you again?
This became the status quo for the next 5 miles or so. The two leaders opened a gap on me on every uphill section. I held the gap steady on the flats. I bombed the downhills to catch back up. It was clear these guys were stronger runners than me, yet I gained time on the downhills and some of the more technical flat sections of the trail.
By mile 8 I could barely see the two leaders, their lead over 30 seconds by that point. I put all my effort into one last kamikaze descent to come within 10 meters of them at the bottom, just as we reached the widest and deepest stream crossing of the race. I heard them shouting a bit at the crossing, but I wasn't sure why. Moments later I found myself balls-deep in frigid snow runoff and it was suddenly clear.
Oh oh, oh oh
I can't imagine what they must have thought of this guy who they kept dropping, yet was right on their tail again. After seeing me on the other side of the stream I think #1 had finally had enough of me and he took off. He gained so much time on us so quickly that I seriously wondered whether he had taken a wrong turn.
I yo-yo'd behind #2 for a few more miles. With slightly more than 1 mile to race I once again came within 10 meters of him before hitting an uphill and losing contact again. Once we hit the (muddy) fire road (now rained on for hours longer and trod upon by 350 people) for the final out-and-back, I could barely move. I had no hope of catching back up. The gap went out to a minute in the last ½ mile. I finished in 1:46:09 for 3rd place.
The winner also won the race last year, though he was over 10 minutes slower this year due to the trail conditions. The second place finisher also finished second last year. I don't know what their seed times were, but #2 has a half marathon PR of 1:12 (!). These guys are so far out of my league I'm still a bit stunned I was able to stay with them for as long as I did.
Then again, my last two first place finishes were sloppy, muddy trail runs in the rain.
Maybe this is becoming my thing.
---
Update: Here's an awesome video one of the runners made:
And here's someone's photos of the course during the race.
Life is way too short to take it slow
---