I limped to the starting line. Literally. I've never been in this much pain at the start of a race before. This was a bad idea.
I haven't run a road marathon in over three years. I suppose this isn't a road road marathon, as it is on a mostly gravel rail trail, but it's definitely not on single track. Melissa found the Frisco Railroad Run and wanted to do the 50 mile race. They also had a marathon, which was around the distance I planned to run for training at this time leading up to the Berryman 50 mile race next month. I've already done two training runs this distance.
I didn't taper for the marathon, but I did ease up a bit on my training a few days beforehand. Then on Thursday, two days before the marathon, I was doing one last easy four mile run when, for no discernible reason, I tripped on a straight, flat, smooth sidewalk and face planted. I bruised and scraped my left knee, hip, and elbow. I also managed to tip over the jogging stroller in the process, which scared me far more at the time. I got up, calmed Will down, and dropped him off at daycare, trying very hard not to think about how badly my knee hurt. A quarter mile from home I had to stop and walk the pain was so bad. There goes the marathon.
I couldn't walk the rest of the day. The next day was a little better, but not much. I decided to make the trip down to Springfield, MO anyway so I could be there to crew for Melissa. And maybe my knee would feel better by race time. Who knows?
I gave myself a 50% chance of starting and a 25% chance of finishing. My knee didn't really feel any better by Saturday morning, but maybe it would be better running than walking. I already paid the entry fee. If this was a running injury that would threaten future events I wouldn't have considered racing. But since it was just bruises and cuts… I'll go ahead and start, then drop out after a few miles if it doesn't improve. It didn't improve.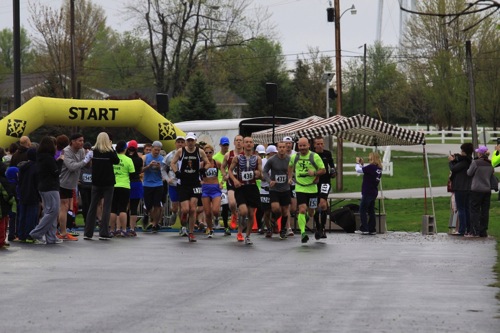 Photo courtesy of Fun Memories Photography
Pre-fall I figured I could easily cruise to a 3 hour finish, so I started around that pace. I kept a close eye on my heart rate to make sure I didn't overdo it early. The pain in my knee was intense, but the rest of my body felt superb. I was still breathing through my nose comfortably at mile 7.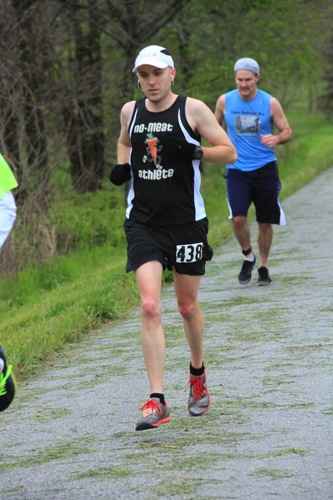 Photo courtesy of Fun Memories Photography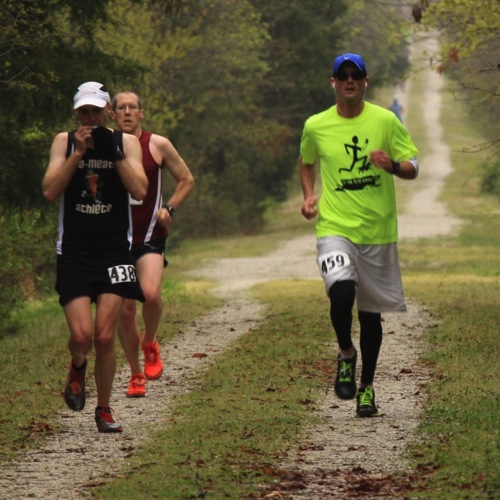 Photo courtesy of Fun Memories Photography
Until that point I had been slowly catching up to the leader, but then he picked up the pace and started to pull away. Ignoring common sense I went into race mode and sped up to catch him. I passed him around mile 11 and he stayed with me. I sped up to try to drop him, but he remained. I continued to lead until mile 18-19 or so when I needed him to share some of the wind breaking duties. So we took turns in front for a few miles.
It was raining hard now. I was anaerobic, but nowhere near my red zone. I started to have some serious muscle fatigue in my legs around this time and the pace which was previously downright easy for me was becoming more and more difficult to maintain. When I started to notice other pain in my body besides my knee I knew I was in trouble. I slowed. He slowed as well. I slowed more. He slowed slightly less. And that was all it took for him to pull away from me. I chased him the last 5-6 miles, while he gradually gained.
Weaving through half marathon finishers I eventually crossed the line in second place at 3:02, about 1½ minutes down on the winner. Despite averaging 6:58 per mile my last two miles were over 8:00. I'm a little disappointed at my spectacular collapse at the end of this race, but I'm not too concerned. I didn't train for this race, I didn't taper for this race, and I was in excruciating pain the entire time.
My time of 3:02 was good enough for a new marathon PR. Here's a comparison of my splits compared to my previous PR. What I find most striking is my significantly faster pace at a consistently lower heart rate.
Rockford Marathon 2009
Frisco Railroad Run 2013
Time
Split
HR
Time
Split
HR
Mile 1
00:07:24
07:24
145
00:06:57
06:57
142
Mile 2
00:14:48
07:23
153
00:13:51
06:53
148
Mile 3
00:21:59
07:11
156
00:20:41
06:50
151
Mile 4
00:29:20
07:21
156
00:27:34
06:53
152
Mile 5
00:36:45
07:25
158
00:34:28
06:53
155
Mile 6
00:43:51
07:05
159
00:41:15
06:47
157
Mile 7
00:51:00
07:08
161
00:48:07
06:51
158
Mile 8
00:58:04
07:04
159
00:54:49
06:42
159
Mile 9
01:05:11
07:06
160
01:01:23
06:34
161
Mile 10
01:12:22
07:11
160
01:07:58
06:34
164
Mile 11
01:19:38
07:15
158
01:14:30
06:32
163
Mile 12
01:26:48
07:10
161
01:20:59
06:29
161
Mile 13
01:34:03
07:14
164
01:27:29
06:29
161
Mile 14
01:41:11
07:08
165
01:34:04
06:35
169
Mile 15
01:48:18
07:06
167
01:40:46
06:41
169
Mile 16
01:55:17
06:59
168
01:47:30
06:43
167
Mile 17
02:02:29
07:12
167
01:54:10
06:40
167
Mile 18
02:09:28
06:59
169
02:00:58
06:47
166
Mile 19
02:16:30
07:01
172
02:07:53
06:55
164
Mile 20
02:23:33
07:02
170
02:14:43
06:50
167
Mile 21
02:30:43
07:10
169
02:21:49
07:05
165
Mile 22
02:37:46
07:02
172
02:28:58
07:08
164
Mile 23
02:45:06
07:20
172
02:36:29
07:30
165
Mile 24
02:52:10
07:03
174
02:44:00
07:31
164
Mile 25
02:59:38
07:27
174
02:52:02
08:02
162
Mile 26
03:07:04
07:25
175
03:00:10
08:08
162
And now for a dark turn. Why did I bother racing so hard for so long through so much pain? I don't really know for sure. It was dumb. But I was in a very bad place emotionally last week. I lost a dear friend to colon cancer. He was in his mid-thirties, the prime of life. I was thinking about him throughout race. I don't recommend contemplating issues of life and death while running a marathon. But running is my coping mechanism. I was so distraught that all I wanted to do was run. And I was enduring so much emotional pain that all I wanted to do was suffer physically to try to mask that pain. I guess I just did what had to be done. I had to face my demons. I don't know if I will ever get over the tragic loss of my friend, but at least now the healing process has begun.