I've lived here in St. Louis for almost three years now and I still had never run an ultra put on by the local SLUG running group. That was going to change this spring. Registration opened January 1st and I tried to sign up for the Double Chubb 50K. The race filled up in 20 minutes and I missed out. Without really thinking matters through I instead signed up for the next SLUG race, the Berryman 50 mile in May. Berryman is farther than Chubb, the trail is more difficult, I had never run the trail before (so I wasn't as familiar with it), it was later in the spring (so it would interfere more with my cycling/triathlon schedule, and it would be much hotter). It would be a bigger challenge, but I was ready.
After a brief recovery period following Fuego y Agua I focused all my attention on this race, and aside from the silly fall I had just before the Frisco Railroad Run everything else went perfectly. I had my biggest months and several of my biggest weeks of training as far back as my records go. I made two trips down to Berryman to train on the course and familiarize myself with it.
During the three week period between Frisco and Berryman I intended to do a bit more moderate training and a short taper. It didn't work out that way. My knee hurt so much after Frisco I didn't run for 10 days. By that point, only 10 days out from Berryman, I was freaking out about the problem. I saw a doctor who took X-rays and assured me it was just a bad bruise. I should be fine to run as long as I could take the pain. After Frisco I knew I could race through almost any pain.
My first training run back was a disaster. It was like I forgot how to run. I couldn't get comfortable. My pace would vary from 10:00/mile to 6:40/mile completely unintentionally. My knee hurt. A lot. But each successive run went better, and after a week the knee pain was slight enough I could completely ignore it.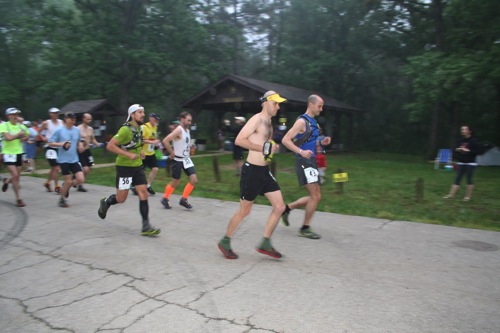 The start (photo courtesy of Shannon Drohan)
I'm not an expert at running 50 miles. I have covered that distance one time previously, but it was on a much easier course with more frequent aid stations. I planned for the worst but hoped for the best. I made a point of starting the race extra slowly. If I start a short race too fast I might have a half hour or hour of misery before it ends. If I start a 50 mile race too fast I could have 5-6 hours of misery. For the early miles there were seven people in front of me and I was at the back of a pack of four. I was running very comfortably, breathing through my nose for the first 7-8 miles. The temperature was in the low-mid 60˚s, but it was rising rapidly.

7.5 miles (photo courtesy of Shannon Drohan)
I skipped the first aid station, passing my three companions in the process. I had plenty of water and I would have had to wait behind the first three guys in my group to get any food… and I had plenty of food. Every mile divisible by two I ate a Medjool date. Every mile divisible by three I took an S!CAP. I had my only real mental lapse at the mile 16 aid station where I completely forgot to pick up more dates from my drop bag. I was out by that point so I had to switch to my backup plan of Clif Shot Bloks and Hammer Gels, and I had a few of each with me. The first loop was mostly uneventful. I continued on at a steady effort (though not a steady pace, due to the hills on the course). I gradually passed three more runners to move into second place at the end of the first 25.7 mile loop, which I completed in exactly 4 hours.
I was hot and starting to fatigue rapidly. I had been hoping to finish in 8 hours, but I knew that was out of the question. It wasn't a very realistic goal. I had to slow down. The first 5 miles of the second loop took forever and I ran out of water. My mouth was too dry to effectively chew the dates I picked up at the start/finish line, so I had to switch back to my backup foods. The first half of the second lap was just brutal. I was baking in the sun.
Halfway through the second lap I started walking up some of the hills. Walking up hills is pretty standard procedure in ultramarathons, but I had been running them all. The weird thing about the Berryman trail is that despite the numerous hills, none of them are very steep. They're all completely runnable. And since several are quite long, and there's often not a clear start or end to the hill, it's a bit awkward to arbitrarily start walking and then later arbitrarily start running again. But I did it anyway. I still had enough energy to run, but I was overheating.
Melissa found her way out to three of the aid stations on my second loop, and it was nice to see her and Will. I feel bad for not paying more attention to them, but I was really focused on getting this thing finished.
In my tired, dehydrated state I had a couple of hallucinations (this happened to me 5 hours into my very first ultra as well). Through the trees I would see fragments of a shape and my brain would fill in the missing bits with what I thought should be there. One time I saw a couple of mountain bikers on the side of the path that weren't really there. Unfortunately, since I really wanted there to be an aid station up ahead, that's the thing I hallucinated multiple times. I even got so excited to see one of the aid stations I opened up my water bottle and dumped the remaining contents over my head to cool down (knowing I would refill it at the aid station), only to look up and realize the aid station wasn't really there.
The last 5 miles of the loop are a roller coaster of constant ups and downs. Knowing I was so close to the finish line I began running the hills again. I still had energy left. After I came out of the woods and approached the finishing line I even noted to myself that I still had pretty good form. I finished in 2nd place in 8h59m. The winner was almost an hour ahead of me, and much to my surprise the 3rd place finisher was only 2 minutes behind me. It's a good thing the race ended when it did.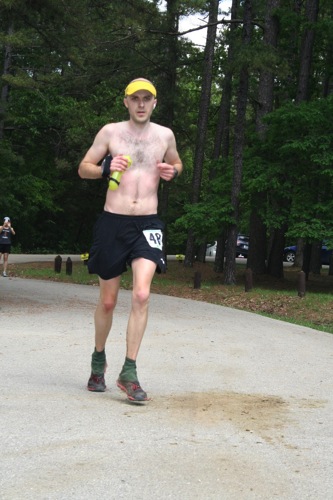 The finish (photo courtesy of Shannon Drohan)
So it was quite an experience. A few things went wrong, but most things went right. I'm quite pleased about that. I started out very conservatively, and I still had energy left at the end. My nutrition plan went quite well with the dates, and even my backup plan of Clif Shot Bloks and Hammer Gel worked for me. I never had any stomach problems. I stayed on top of the S!CAPS and I never had muscle cramps. There were times when I struggled in the heat, but there was never any doubt in my mind that I would finish the race. I did have a bit of residual knee pain in the first couple miles, but it went away and didn't return. Despite one close call I managed to stay upright the entire 51.4 miles on a very rocky trail. The race was well organized and the volunteers were great.
If I searched hard enough I could probably find things to complain about, but I'm not going to. The race went as well as I reasonably could have hoped. This was the race I've been looking forward to all year and I'm not a bit disappointed with it (which is as close to pride as I'm willing to publicly admit).