For a few years now I've wanted to try a XTERRA (off-road) triathlon. Granted, mountain biking is not my forte (though I do find it enjoyable), but the swim would be similar to any other triathlon and I love trail running. I was hoping to have fun more than a top performance.
Last weekend I was able to make it over to Boonville, IN for the Scales Lake XTERRA sprint race. This was the third consecutive weekend in June I participated in a type of race I've never attempted before. Melissa, Will, and I went over the day before the race and camped in the park where the race would take place. This gave me the opportunity to quickly reconnoitre the mountain bike course. And I'm glad I did. Most of the trail was fairly straightforward, but there were a couple places where I had to stop my bike and think for a moment, how am I going to get through this section alive? I didn't want that to happen during the race. Really the only reason I raced the Lost Valley Luau the previous weekend was to gain enough confidence in my mountain biking skills to attempt this one.
Our last night-before-race camping experience at Berryman was quite different, as everybody camping there was participating in the race the next morning and all went to sleep at a reasonable hour. This campground was full of people on summer vacation. There were unsupervised children still playing at the playground next to our campsite at midnight, and cars were driving in and out all night long. Despite the lack of sleep, I fortunately didn't feel like a zombie when I awoke in the morning.
I arrived early to check in at the race and to get a good spot in the first-come-first-serve transition area. This left me a lot of time to kill before the race, which is better than rushing around at the last minute. I did a quick warmup on a short section of the bike course before running the last section of the run course. A half mile from the finish I passed a sign reading "Mile 4", which was particularly interesting given the run was advertised as 3.3 miles. A longer running course would be an advantage to me, but would it be enough to make up for my relatively weak mountain biking?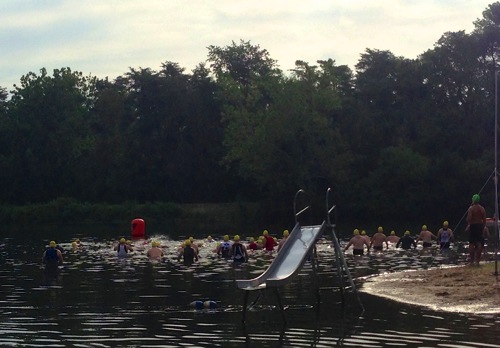 Finally it was time to head down to the water to get ready for the start of the half mile swim leg. The swim start was fast. The swim start is always fast. After I settled down into a good rhythm I could look up ahead and see a couple leaders way in front of me, but there weren't that many people between us. I noticed there was a guy in a bright red suit just in front of me and he was moving at the exact same speed. So I was able to keep my eye on him to make sure I was swimming in a straight line, looking up to see the orange buoys less frequently (looking up slows you down). I was 11th out of the water and began the run across the road to the transition area.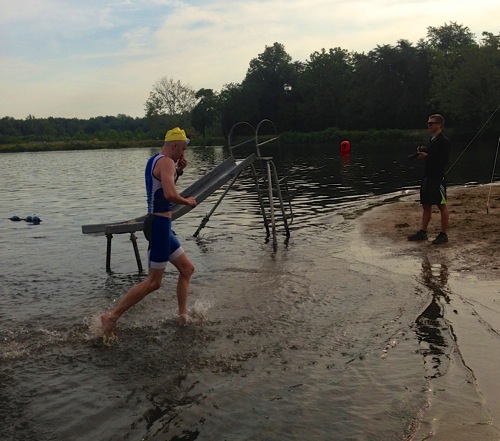 A couple people passed me early on the 11 mile bike course. I would stay with them for a short while before eventually falling behind. I was really glad I rode the course the night before. Nothing caught me really off guard. Of course, I was going much faster during the race. The higher speed made some of the obstacles easier (there were lots of short, super-steep hills) and some of the numerous tight turns more difficult. A total of five people passed me during the first 5.5 mile loop. On the second loop one person passed me, but I passed a different person, so I maintained my position. Towards the end of the second lap I was passing slower riders who were still on their first lap. Since there was a big difference in speed, these passes weren't too difficult.
Towards the end of the second lap I thought to myself, I'm starting to get the hang of this, I could go for another lap. Just in time to get off the bike and start running. My run started fast. Normally in a triathlon I'm a bit cooked after the bike and I have to ease into the run a bit more gradually. This time I wasn't held back on the bike at all by my fitness, I was held back by my moutain biking skills (e.g. making extraordinarily tight turns at high speed).
I was pretty fresh for the run, and it went by fast. I passed one person in my race, and several people who were on relays or who did the shorter one-bike-loop race. I really had no idea how well I was doing, but I finished strong anyway. I got a medal at the finish line, which I promptly gave to Will, who was waiting there for me with Melissa. Will is really into Wreck-it-Ralph at the moment. One of the central points to the plot of the movie is that the protagonist wants a medal. So Will loved the medal.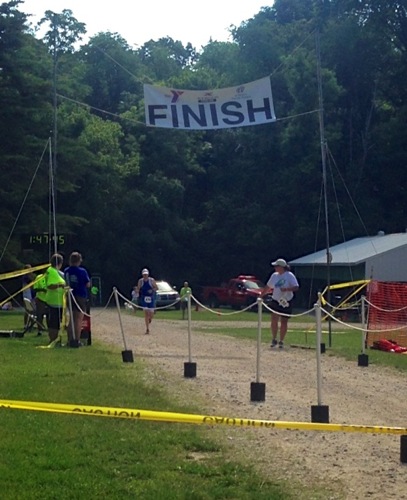 I finished in 1:47:48 for 9th place overall and 3rd in the 35-39 age group (I'm 34, but I will turn 35 before the end of the year). Everyone who finished ahead of me absolutely destroyed me on the bike, while I faired better at the run and swim. It's clear where I need improvement for this type of race. But I absolutely did meet my goal of having fun.