I can honestly say I wasn't expecting 166 people to show up to a trail race on a Thursday night in 95˚F heat and high humidity. But hey, it's only 3.9 miles, how hard could it be?
Well, amongst those 166 people were some serious competitors. This was the 4th race in the Off Road Racing League's August trail running series. I missed the first 3 due to Howl, vacation, and recovery. I'm not sure I'm completely recovered from Howl yet. I don't having any lingering pains, I just don't have a lot of zip in my step, if you know what I mean. It probably wasn't the best time for a super fast trail race, but it should be fun.
I went out with the leaders, letting them set the pace while I evaluated how I felt. I came to a stop when the leader took a wrong turn, unsure of myself even though I had studied the map before the race. Then I came to a stop again after the leader took another wrong turn. The second time really wasn't his fault (the turn was poorly marked), and I didn't want to take advantage of the situation, so I waited for him to get back on the right trail before proceeding to set the pace myself. The leader was a bit impatient with my slightly more conservative pace and he soon passed me. I stuck with him, perhaps foolishly, allowing only enough room between us to see the trail.
Our first 2½ miles were around 5:45 pace, which was quite uncomfortable for me after a summer of long distance training. Then we hit the stairs–200 ft (~20 flights) almost straight up. He ran up, single-stepping. I briskly walked, double-stepping. As we slowed on the steps I heard a chase group behind start to catch up.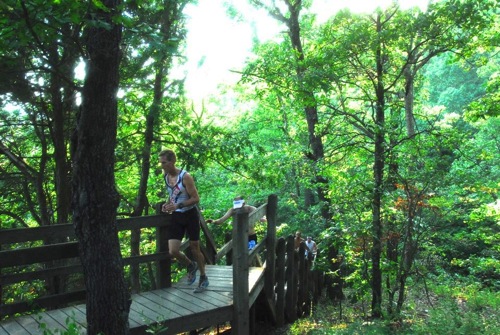 Photo courtesy of Alpine Shop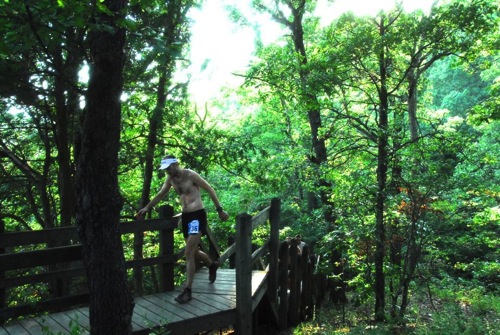 Photo courtesy of Alpine Shop
The leader pulled away from me as the stairs leveled off and we began to run again. Then we hit a short steep uphill and I was cooked. Two runners passed me and I dropped to fourth. I figured I would make up time on the long technical downhill section, but it wasn't to be. I fell even further behind the leading trio. By the stream crossing at the bottom I was in full damage control mode. Just before the final 200m section through a wide open field I caught a glimpse of two more runners catching up to me fast, which unfortunately meant I'd have to work pretty hard for those 200m.
I hung on to 4th overall, 3rd male, 2nd age group. I received a $10 gift card to the Alpine Shop, which, along with the free Mountain Hardwear hat I received for registering, more than made up for the $16 entry fee.
Oh, and the "3.9" mile course was actually somewhere between 4.5 and 4.7 miles. I was so exhausted after the race I literally had difficulty lifting a slice of watermelon up to my mouth. But after a while I recovered, then I went back out for another 3 miles (in addition to the 3 miles I ran before the race). Next weekend I'm running a half marathon on my favorite STL area trail. If I was going to struggle in my first post-Howl race, I'm glad it was here rather than there.