I think we were still on vacation in Colorado when Melissa read about an upcoming race she thought might interest me, the Corps of Discovery Trail Run, a half marathon on the Lewis and Clark trails–my favorite STL area trails.
Oh hell yes.
Four weeks after Howl at the Moon I was no longer sore and fatigued, but I wasn't particularly well-trained either. This race wouldn't be 8 hours of 9 minute pace running, it would be less than 2 hours as fast as the trail would allow. I'm kind of glad last week's trail race kicked my ass so badly. If nothing else it better prepared me for running uncomfortably fast.
My fictional road half marathon seed time (I haven't run a road half marathon in 10 years) placed me in the first wave of 10 starters. Each wave began 2 minutes apart because there was no real room to separate before hitting the trail. At the starting line I immediately noticed a local runner who has destroyed me every time I've raced against him. And then there was another guy who just looked really fast. I was pretty sure I wasn't going to win the race… but it wasn't going to be for lack of trying. Who knows, maybe I would have some kind of home trail advantage.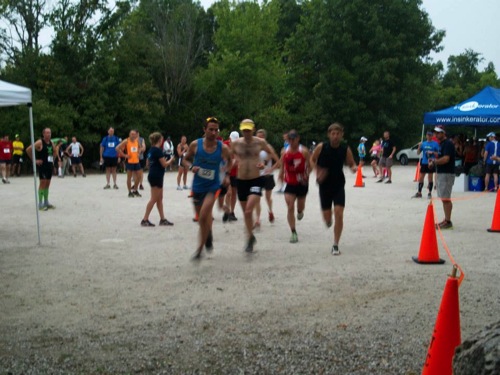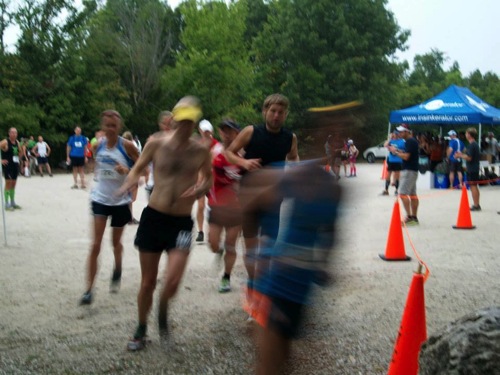 Photos courtesy of Saint Louis Track Club
Moments before the race began the rain started to fall. I love racing in the rain, but this may have been too little too late. 10 meters through the parking lot, two tight turns, then we were on the trail. I stayed on the shoulder of the fast guy, with the other fast guy on my shoulder. I wasn't going to set the pace (we may have walked up the hills if I had), but I intended to hang on as long as I could.
The first (and thankfully fastest) mile was 6:33. Then came a long fast downhill. On one switchback I looked back and no longer saw the guy I expected to win the race. I don't know what happened to him, but he didn't finish. But I didn't know that yet. I continued to follow the pace of the other fast guy. Then we hit the first big uphill stretch and he floated away from me like I was standing still. I struggled to reach the top and picked up my pace a bit. I started to reel him back on the flat, then I caught back up on the next long downhill. Even with the big hill we still ran the second mile in 6:51. To put that into perspective, on my long easy training runs on this trail I usually run that mile in about 10:30-11:00.
Things weren't looking good at this point. A bit after 3 miles in we hit the next big uphill and once again he was gone. This time for good. I never saw him again the rest of the race, and in the last 10 miles he put 6 minutes into me.
I struggled the rest of the race to find a good pace. There was nobody within sight, either in front of me or behind me. If I lost focus, even briefly, I would suddenly notice I was running easy, and then I would have to pick the pace back up. As far as I knew the other fast guy was still chasing me down. I did well on the flats and on the downhills, but my uphills were just awful. This is such a weakness for me but despite attempts to address it I just haven't progressed.
With about 3 miles to go I reached a poorly designed wooden staircase (the only stairs on the trail). The individual steps actually slope downward. And they were wet. And I had to go down them. I held the railing and walked slowly only to fall on my ass anyway and slide the rest of the way down. My butt was scraped, my back was bruised, my fingers were splintered, it knocked the wind out of me, and it made me nauseous. I walked away, my pride hurting as much as my ass, for what felt like an eternity before I could work back up to a jog. The last 3 miles were not pretty.
I hung on to finish second place, well behind the leader. In fairness, if I had had a spectacular day I still don't think I could have beaten him. By most measures I had a successful race, but it sure didn't feel like it at the time. The combination of the fall, my poor uphill performance, and getting beaten by such a big margin on my home trail left me feeling disappointed. But I'll get over it.