And sometimes the bear, well, he eats you.
Mt. Werner Classic 50K
After a couple of shorter races in June (if you can consider 15-26 miles shorter) I jumped back into ultra racing this past weekend with the Mt. Werner Classic 50K in Steamboat Springs. This would be my first ultra in Colorado after living here for two months.
The course is challenging: a 9 mile long climb to the top of a mountain, 13 miles of rolling terrain above 10,000 feet elevation, then a long steep descent down to the finish line. I was prepared for the challenge. I've been running plenty of distance (50-60 miles per week), with lots of climbing (8,000-9,000 feet ascent per week), with a handful runs at high elevation above 10,000 feet. I did a little bit of a taper so I wouldn't be too tired going into the race. I estimated a great race would put me in around 5 hours, while an okay race would put me in around 5½ hours. I felt I had a good chance to finish in the top 3-5 places overall, and top 10 was almost a sure thing.
The race started slow, but hard. I didn't look at my time the entire race, only my heart rate. I wanted to pay attention to my perceived effort and keep it under control as much as possible. I let a handful of fast starters go up ahead while I held a steady, maintainable effort up the steep initial climb. I tried not to pay attention to my placing at this point, but it was hard not to notice. I settled into 8th place and ran by myself at my own pace for a few miles.
Eventually I caught up to a pack of 4 in front of me and I slowed down a bit rather than pass them. A few more people caught up from behind as the trail became much steeper and the pack exploded. I went back and forth with a couple different people, but stayed in roughly the same place. There was a slight downhill section midway up the climb, which felt kind of bad after going uphill for so long. Then came one final push on a rocky section of trail up to the summit.
I continued my steady effort, though I was walking more on the steepest sections of the climb and the runners in front of me started to pull away. No matter, I thought to myself, I can reel them back in once we reach the top. Then a couple people passed me. Then a couple more people passed me. I maintained a steady effort. Then a couple more people passed me. My confidence was shaken.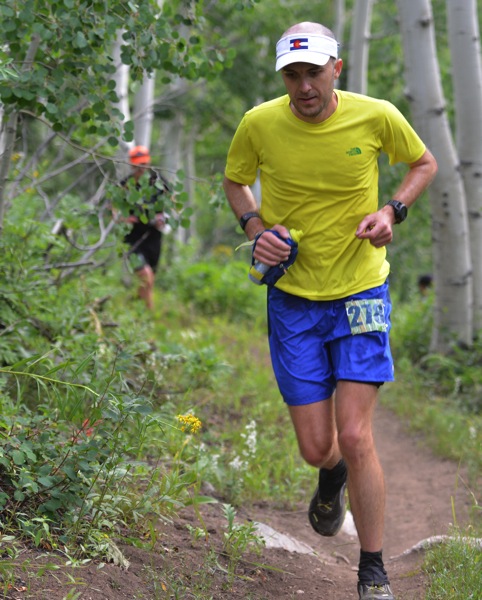 Photo by Ski Town Photography
Once we reached the top of the mountain there was a 6 mile stretch of relatively flat trail before the turnaround point. It was more rolling than I was expecting. The hills weren't big, so they basically disappear on the same profile map as the big climb. But after doing the big climb these rollers weren't easy. I couldn't run as fast as I was expecting. I ran those 6 miles without seeing another person, either in front of me or behind me. I had thought I would use this opportunity to move up through the field, but instead I was further back than I ever planned to be and there was no sign that would change anytime soon.
Then it changed, but not the way I wanted. Just as I reached the turnaround I was caught and passed by 3 more runners. I tried to stay positive, but by this point my confidence was in shambles. This isn't supposed to happen to me.
By now the cool morning had given way to a blazing sun. I took off my shirt as I ran the 6 miles back to Mt. Werner. The rolling hills featured more up than down on the way back and I was walking more and more. Then I left the shady part of the trail behind and ventured into the exposed area. As soon as the steady sunshine hit me I stopped and almost vomited on the side of the trail. I tried running again but the nausea persisted. My walk breaks became longer and longer until eventually I had broken and I resigned myself to walking the entire way to the next aid station. A steady stream of runners were passing me, but that was the last thing I was worried about by now. Can I even make it to the finish line? On two separate occasions I stopped to sit down on the side of the trail for a few moments.
Since I was moving much slower than I expected, and it was hot, I ran out of water a few miles before the aid station and by the time I finally got there I was pretty dehydrated. I stayed in the shade at the aid station for about 10 minutes while I drank several bottles of Tailwind and water. I was able to eat a little bit of food. By the time I left the nausea was under control enough for me to run, but my stomach was completely full and the sloshing and bouncing was terrible, so I continued to walk a few more minutes.
The downhill became steep enough that it was ridiculous to be walking, so I started to run again very slowly. As the miles went on and my stomach hurt less I gradually increased my speed. The farther I descended the hotter the temperature, but it wasn't bothering me as much. The last few miles I was running fast–as fast as I felt I should have been running the whole time. I finished in 6:19 for 34th place. This was a far cry from my seemingly reasonable goal of 5:00-5:30 and top 10 (and an even farther cry from my last two 50K races that I won).
The race organization was great, the aid stations were great, and the course was great. I'm glad I started the race, and I'm glad I finished it. I'm still a little bit unsure what exactly happened in the middle of the race and why it happened. Sometimes in a race you clearly make a mistake and you pay for it and you learn from it. In this case there was no clear mistake I made and no clear lesson to be learned… unless the lesson is that everybody has a bad day out there sometimes.