In my previous four races I hadn't finished lower than fourth place overall. The small Klondike Park 7 mile trail race two weeks ago seemed like a perfect fit for me so I went into it thinking I would probably win. That was my first mistake.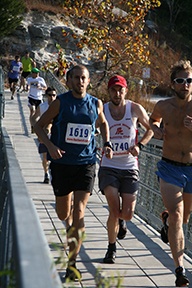 Photo from here.
I started out at what felt like comfortable pace. The first mile was on a paved path through the park. Four runners stayed together in the lead pack. I let the others set the pace. It felt slow. Just before the first mile marker we hit The First Big Steep Hill. Feeling great, and seeing the others seemingly struggle, I took the lead, thinking I would probably just finish the last six miles alone. Towards the top of the hill my watch beeped, indicating the first mile had passed. I for some reason chose not to look at my time, which I have since come to regret. I now know we ran the first mile in 6:07… including the big steep hill.
Much to my dismay the others stayed on my heels as we entered a section of very technical single-track trail. I pushed the pace, but they all were able to follow. It was sinking in that I did not have this thing in the bag. We exited the woods together onto a wide flat crushed gravel path. I started paying attention to my mile splits, a few 6:15-ish splits in a row, as two guys pulled away from me. I was slowly beginning to pay the price for starting too fast, a tale I've told many times before.
There was another big hill around mile 5, which completely destroyed me. I passed Melissa & Will shortly after that. She said I looked fine, but I was totally faking it. I then entered another section of very hilly technical single-track trail. In the span of one mile my splits ballooned by 3 minutes. It felt like a death march. Another runner caught up to me from behind, got lost, caught up to me again, then passed me… which didn't do much for my confidence.
I finished in fourth place, extending my streak of top-four finishes to five consecutive races, though this was by far the ugliest of the bunch. At some point the following will sink in:
Don't start too fast, stupid.
Don't underestimate a trail you haven't run before.
There's a lot of good runners out there.