My Quantum Mesa cycling team put on the Lost Valley Luau mountain bike race this past weekend. I volunteered to help out with the race, but I kind of really wanted to participate in the race as well. The organizer was kind enough to put me on registration duty so after registration closed I'd be able to hop into the race.
I've never done a mountain bike race before. The closest I came was in the Tracks N Treads off road duathlon last spring, but in that race the run came first and I had a huge lead going into the bike leg. This was going to be a mass start mountain bike race with everyone making a mad dash down a gravel path in order to get to the single track trail first. I was quite curious how this would play out, yet utterly terrified at the same time. Complicating matters was the fact that I missed the beginner race earlier in the day due to my volunteer duties, so I was racing in the sport class (above beginner level, but below expert). Also, I've only ridden my mountain bike once in the past 14 months.
What's the worst that could happen?
My expectations were low. I wanted to finish the race. I didn't want to crash. I didn't want to cause someone else to crash. I didn't want to have a mechanical. I believed there was a realistic chance I could finish dead last, but that didn't bother me. I was there to have fun and to learn.
The start of the race was much faster than I expected, and rather than go into oxygen debt at the start of a 2 hour race I just let the fast guys go. After the scariest steep gravel descent I've ever ridden (my arms were shaking violently from side to side, which is not what you want when you're traveling 30+ mph) we made it to a long ascent–Rob's time to shine. I passed a lot of people who had gone out faster than me and I got into a good position for the single track.
It was immediately obvious I was outclassed by the technical skills of the riders around me. I tried to stay in contact with them for as long as possible. A couple riders passed me in the early miles, then a couple more a bit later. We came out of the woods onto another gravel road and I cranked up the speed a bit and gained some ground back on my fellow riders. In the next two section of single track I did a bitter better, and my confidence grew a bit.
The whole time we were constantly passing people on the side of the trail who were stopped with mechanicals, or picking themselves back up after a crash. I expected to see a few mechanicals, but there were far more than I would have guessed–dozens, I'd say.
I passed another handful of riders on the gravel road leading to the finish line at the end of the first loop. I headed back out for my second 11 mile loop with nobody in sight ahead of me.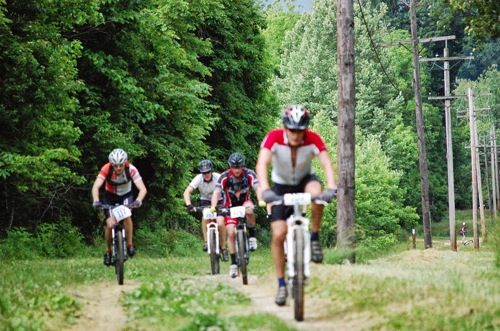 Photo courtesy of Karen Einig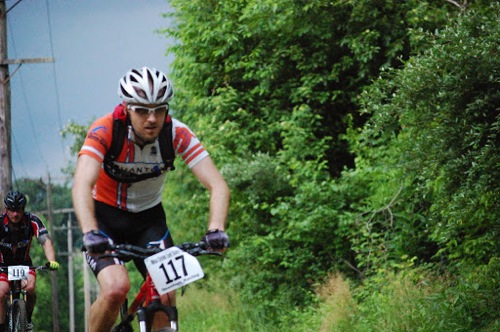 Photo courtesy of Karen Einig
I was cooked at the bottom of the long gravel ascent, so I took it much slower than the first lap. Just before I reached the single track I felt raindrops. Then a few minutes later it began to pour. I was stuck behind a guy going a little slower than I would have liked and I thought about passing him. But the dark skies made it difficult for me to see (my transitions lenses got me again) and the muddy trail slowed me down even more. I eventually took off my glasses, but then I had to deal with mud in my eyes, which was almost as bad. I stuck with him for several miles until we reached the gravel road again, then I finally passed.
The last two sections of single track again went fairly well for me, though they were much slower on account of the mud. I passed 1-2 more riders in the final gravel road section before the finish line. It was still pouring down rain at the finish so I had to wait until later in the day to find the results online. I finished 13th of 43 in the sport race, and 4th of 12 in the 30-39 age group. So it went pretty well (even if it did end my streak of 11 consecutive top ten race finishes).
Another rider in the sport race captured his first 20 minutes on video, which was fun to watch. About 1 second into this video you can see my orange jersey on the far left side about two rows ahead of the camera. Enjoy.