It is with mixed emotions that I write about my 2003 Dahon Helios XL folding bike. I've had this bike for 4 1/2 years and it has served me well, but I've decided to replace it. Tomorrow I should be receiving a brand new Bike Friday Pocket Rocket.
The Dahon was never my primary bike. I got it to ride around town and to take with me on trips (both auto and plane). The wide, low pressure tires do better on bumpy city streets and sidewalks than the thin, high pressure tires on my road bike. It has fenders and an internally geared planetary rear hub to deal better with the nasty weather I sometimes encounter riding to & from work. The rack allows me to haul my computer or other miscellaneous items. It folds up in about 15 seconds. It fits into a nylon bag that can be carried around. In about 15 minutes it can be disassembled further to fit into a standard sized Samsonite Oyster suitcase for airline travel.
2003 Dahon Helios XL
2003 Dahon Helios XL folded
Dahon Helios XL frame inside suitcase
Dahon Helios XL inside suitcase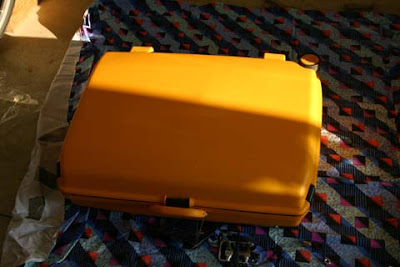 Dahon Helios XL inside suitcase
The bike has been great and it has served its purpose well, but it's far from perfect. It works well to get around town, but it's not great for long rides… or fast rides… or uphill rides… or downhill rides. It's a bit on the heavy side. The internally geared hub is low maintenance, but it has a lot of friction, it's a pain to install and remove from the bike, and it's difficult to adjust properly. My new Pocket Rocket should shine where the Dahon has fallen short.
I have flown to San Francisco with the Dahon 3-4 times and taken it on numerous car trips. It is my usual transportation for marathon watching (Madison, Green Bay, Des Moines, Chicago Lakeshore). Aside from that I ride it to work on a rotating basis with a couple of my other bikes.
I'll leave you with some photos of the Dahon in action:
Rob on the Dahon during Chicago Lakeshore Marathon, 2004
Melissa next to the Dahon after Chicago Lakeshore Marathon, 2004
Rob after crossing Golden Gate Bridge on the Dahon, 2004
The Dahon on Lombard Street in San Francisco, 2004
Melissa running Green Bay Marathon with the Dahon's rear wheel in background, 2005
Rob with the Dahon at Marin headlands with San Francisco in background, 2005
The Dahon folded up under Rob's desk, 2008